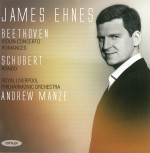 What more is there to say about James Ehnes? He's simply one of the best violinists in the world, and an artist whose performances tend to leave you scrambling for superlatives. Not surprisingly, that's the case with his latest CD release, perhaps rather surprisingly his first recording of the Beethoven Violin Concerto in D Major Op.61, on Beethoven Violin Concerto, Romances; Schubert Rondo, with the Royal Liverpool Philharmonic Orchestra under Andrew Manze (ONYX 4167).
It's a quite sumptuous performance, with Ehnes' complete technical and musical command and glorious tone fully evident throughout. In a work which mostly eschews technical fireworks and concentrates on linear writing, Ehnes makes every melodic line sing. It may be a performance somewhat less animated than some current approaches to the work, but it's one of great beauty, silky smoothness and assurance. Manze, an early music violinist turned conductor, draws a stylistically appropriate accompaniment from the orchestra. The cadenzas for the outer movements are by Kreisler (not always used these days) and give Ehnes all the opportunity he could possibly want to display his dazzling technique.
The two Romances, No.1 in G Major Op.40 and No.2 in F Major Op.50, from around 1800, do not have the heft of the concerto, but are much more than mere lightweights. Either one may have been intended as a possible slow movement for a projected C-major violin concerto begun in the late 1790s, and they sound lovely here.
Franz Schubert's Rondo in A Major for Violin and Orchestra D438 is one of only three works – all for violin – that he wrote for solo instrument and orchestra. Composed when he was 19, it is full of typical Schubertian melody.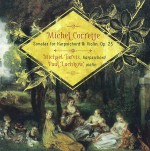 There's a simply outstanding new CD from the Canadian west coast duo of violinist Paul Luchkow and harpsichordist Michael Jarvis of the six Sonatas for Harpsichord & Violin Op.25 by the 18th-century French composer Michel Corrette (Marquis MAR 81475).
The works date from around 1742 and were published with the usual description for the period as Sonates pour le Clavecin avec un Accompagnement de Violon, although the violin's role here is clearly not merely subservient. As the excellent booklet notes point out, the keyboard writing is more symphonic in scale than simply melody with accompaniment, with the violin sharing the melodic role and enhancing the harpsichord's orchestral texture.
The violin playing is sensitive and warm, and the harpsichord playing bright, clear and beautifully articulated. There's sensitivity in the slow movements, dazzling virtuosity in the fast outer movements and superb ensemble playing throughout. It's thoroughly engrossing music, fascinating and inventive with never a dull moment, and recorded with lovely ambience. All in all, an absolute delight.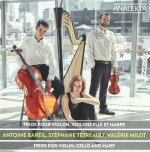 There's more fine Canadian ensemble playing on Trios for Violin, Cello and Harp, featuring violinist Antoine Bareil, cellist Stéphane Tétreault and harpist Valérie Milot in works by Jacques Ibert and Henriette Renié (Analekta AN 2 9888).
The Ibert Trio is a really lovely work dating from 1944, although it seems to inhabit an earlier French world than that of the Second World War. The equally delightful Trio by the harpist and composer Renié, an exact contemporary of Ibert, is firmly in the style of that earlier age, having been written in 1901.
A selection of shorter works fills out the CD. Renié's Danse des lutins is a virtuosic piece for solo harp that showcases Milot's technique. Bareil and Tétreault combine for their own fireworks in the familiar Passacaglia by Johan Halvorsen before all three players reunite for their own adaptation of Schubert's poignant song Lob der Tränen.
Bareil and Tétreault in particular are in wonderful form here, but there's a lovely sound quality throughout the disc, with fine ensemble playing and great balance. It's another delightful CD.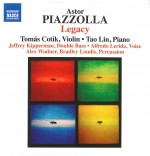 The Argentinian-born violinist Tomás Cotik received rave reviews for his 2013 Tango Nuevo CD of music of Astor Piazzolla with Chinese-American pianist Tao Lin (available on Naxos 8.573166), and the duo mark the 25th anniversary of the legendary Argentinian composer's death with the release of a second outstanding tango CD, Astor Piazzolla Legacy (Naxos 8.573789).
This new disc is essentially the concert program the duo put together following the success of the first CD, and features new adaptations of some of Cotik's favourite Piazzolla works. They are joined at times by Jeffrey Kipperman on bass and Alex Wadner and Bradley Loudis on percussion. Four of the ten titles are arrangements by Osvaldo Calo, but the other six are adaptations by Cotik himself, including the central work on the CD, the superb four-movement Las cuatro estaciones porteňas (Four Seasons of Buenos Aires).
Cotik has a beautiful clarity and depth to his playing; Lin draws a simply gorgeous tone from the piano, and the bass and percussion contributions are used to great effect. Listening to Cotik brings to mind the saying about blues music: that you don't play the blues, you live them. Cotik doesn't just play tango music – he lives it. It's absolutely captivating and intoxicating stuff.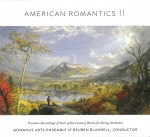 American Romantics II – Premiere Recordings of Turn of the Century Works for String Orchestra is a fascinating second CD in a series created by New York conductor Reuben Blundell promoting under-represented American music from the second half of the 19th century and the first half of the 20th (New Focus Recordings FCR 166B). Blundell conducts the Gowanus Arts Ensemble, a group of NYC freelancers assembled specifically for the project.
The short works are all world premiere recordings, and for some of the composers it's the first time any of their music has appeared on disc. There are 15 works here by 12 different composers: those represented are the English-born Félix Borowski; George Whitefield Chadwick; Arthur Foote; the German-born Paul Theodore Miersch; Ethelbert Nevin; Edgar Stillman Kelley; the Dutch-born Martinus van Gelder and Bernardus Boekelman; the French-born Louis Lombard; Arthur Bird; and Charles Wakefield Cadman. The Danish-born Carl Busch's arrangements of two Stephen Foster songs open and close the CD.
The music is much of its time, as you would expect, but is no less accomplished and attractive for that; Lombard's Puccini-esque Élégie is particularly lovely. The string ensemble is only ten players, but sounds much fuller and richer in simply lovely performances.
An extremely attractive digi-pak complements an original and highly satisfying release.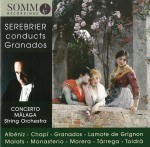 José Serebrier leads the Concerto Málaga String Orchestra on Serebrier conducts Granados, the somewhat misleading title of a new CD from the SOMM Recordings Céleste Series (SOMMCD 0171).
Only five of the 16 short tracks are by Granados; the remaining 11 are by eight different composers, mostly emphasizing a connection with Barcelona, where Granados spent his entire working life. All five Granados tracks – Andaluza, Oriental, Pequeňa Romanza, El Himno de los Muertos and Intermezzo from Goyescas – are arrangements, as are Recuerdos de la Alhambra and Gran Vals by Francisco Tárrega and the famous Tango and Mallorca by Isaac Albéniz.
Nocturno is a lovely piece by Eduard Toldrà. Joaquim Malats' Serenata Espaňola, Ruperto Chapi's Nocturno and Enric Morera's brooding Desolació are followed by the two earliest compositions on the disc, Jesús de Monasterio's beautiful Andante Religioso from 1872 and Andantino Expresivo from 1881. Ricard Lamote de Grignon's Lento Expresivo is a nice final track.
The playing is warm and idiomatic, although there's not really a great deal for the orchestra to get their teeth into.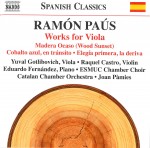 There's music by the contemporary Spanish composer Ramón Paús on Works for Viola, featuring the Israeli violist Yuval Gotlibovich, in the Naxos Spanish Classics series (8.573602). Paús, born in 1959, has worked extensively in the film, theatre and television worlds as well as the classical field.
Gotlibovich is joined by pianist Eduardo Fernández in Madera Ocaso (Wood Sunset) (2013), an extensive single-movement rhapsodic piece with modern touches and a very strong piano part. The Catalan Chamber Orchestra under Joan Pàmies form the accompaniment for the even more rhapsodic Cobalto azul, en tránsito (Cobalt blue, in transit) (2013), and the same performers are joined by violinist Raquel Castro and the ESMUC Chamber Choir male voices in the quite beautiful Elegía primera, la deriva (First elegy, the drift) (2014), an effective and moving work focusing on extreme loss. Gotlibovich displays a warm and beautiful tone throughout the instrument's range.
Madera Ocaso was written for these two performers and Gotlibovich also gave the first performance of the other two works, the recording sessions for the Elegia primera beginning the day after its November 2015 premiere in Barcelona.
Music for violin and viola by American composer Michael Alec Rose is featured on Il Ritorno, with the English duo of violinist Peter Sheppard Skærved and violist Diana Mathews (Métier MSV 28574). There are two works for violin and viola and two for solo violin here, all of which were a result of the composer's long friendship with the two performers. Mathews commissioned the opening work, Unturned Stones: Duo for Violin and Viola (2012), a three-movement piece that takes the study of landscape as a starting point but ventures much further afield, Rose's extensive booklet notes quoting Talmudic study and Zen philosophy.
Mornington Caprice: Duo for Violin and Viola (2015) is the second caprice Rose has written for Mathews and was inspired by Frank Auerbach's painting Mornington Crescent – Early Morning (1991). At under four minutes it takes longer to read and understand the booklet notes than it does to listen to the music.
By far the biggest work on the CD is the title track, subtitled Perambulation for Solo Violin (2013-2015). It was inspired and shaped by the composer's obsession with Dartmoor in Devon, England, which he first visited in 1991 and which he describes as "the reigning metaphor" of his life; he has returned 18 times since then, hence the work's title. The four pages of intense booklet notes make it clear that this work goes well beyond the purely physical appeal of the landscape suggested by the six movement titles: Preamble; Bearings; Silence; Water; Stone; and Song. Skærved is in quite superb form in a work which is certainly not lacking a tonal feel and that uses very little in the way of extreme technique; there is some remarkable playing here, especially in Stone.
The brief Diaphany (2016) for solo violin is a strong finish to the disc. It may be something of a challenge to fully understand the philosophical approach here, but there's no doubting the strength and quality of the music.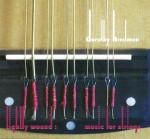 Tightly Wound: Music for Strings is a 2CD set of works by the American composer Dorothy Hindman featuring 13 varied works played by a wide range of performers (Innova 965).
Hindman's music is described as "a blend of punk/grunge with a spectralist sensibility," although the differing styles of the works here would seem to suggest more; this is clearly music by a highly accomplished composer.
CD2 is by far the stronger of the two, with various pieces for guitar quartet (the terrific Taut), solo guitar, string quartet, amplified cello, and both solo violin and solo cello with fixed media. The exemplary performers include guitarist Paul Bowman, cellist Craig Hultgren, violinist Karen Bentley Pollick, the Corona Guitar Kvartet and the Amernet String Quartet.