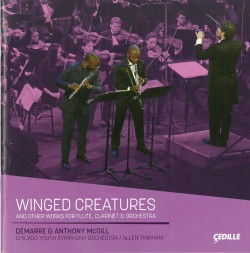 Winged Creatures and other works for Flute, Clarinet and Orchestra
Demarre & Anthony McGill; Chicago Youth Symphony Orchestra; Allen Tinkham
Cedille CDR 90000 187 (cedillerecords.org)
Throughout the classical music world there are the superstars and those aspiring to become one. The latter group often find themselves playing together in youth orchestras, where the synergy of working with others at the top of their game is a fantastic way to accelerate one's progress towards that goal. Winged Creatures brings successful alumni Demarre (flute) and Anthony (clarinet) McGill together with the Chicago Youth Symphony Orchestra. As one would expect, the standard of playing in a city with such a strong musical tradition is excellent; the brothers share a beautiful limpid tone quality to match their technical mastery.
The title track, by Michael Abels, makes terrific use of the orchestral forces while highlighting the soloists' strengths: phrasing of one mind, clear pitch and virtuostic ease. Behind them, the orchestra is led by Allen Tinkham, who might have had some help with the balance from the booth, but nevertheless manages the ensemble with utter aplomb. This is a professional band by another name, never mind the "youth" designation.
For those who feel the late 18th century is still interesting there is a Sinfonia Concertante by Franz Danzi, a charming 20 minutes where the orchestra ably demonstrates proper period style; a much more fun Tarantelle from a young Camille Saint-Saëns follows with sassy vigour. Closing the disc is Concerto Duo, by Joel Puckett. Like the music of the title track, this piece was commissioned by the brothers McGill. It's a slice of bold beautiful Americana. Excellent liner notes come with the disc.