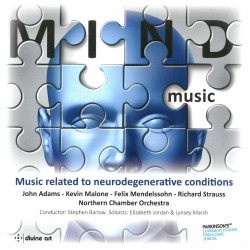 Mind Music – Music related to neurodegenerative conditions
Northern Chamber Orchestra; Stephen Barlow
Divine Art dda25138 (divineartrecords.com)
Mind Music: Music related to neurodegenerative conditions began as a fundraiser for Parkinson's UK. It honours musicians or relatives touched by brain diseases: Felix Mendelssohn (stroke); Richard Strauss (late-life depression following influenza); John Adams and Kevin Malone (fathers with Alzheimer's); clarinetists Elizabeth Jordan and Lynsey Marsh (project initiators, who lost parents to Parkinson's Disease). Yet these readings of clarinet music are upbeat, featuring Jordan, Marsh and conductor Stephen Barlow with the Manchester-based Northern Chamber Orchestra. In Richard Strauss's Sonatina No.1: From an Invalid's Workshop (1943), the wonderfully rich, well-tuned sound of 16 wind players suits the work's melodic lyricism and harmonic suavity perfectly. Mendelssohn composed his short Concert Piece No.1 (1833) for clarinet, basset horn and orchestra in exchange for his clarinetist guests' cooking of Bavarian dumplings and strudel. Here, Marsh and Jordan meld the solo instruments with orchestra into a cheerful, satisfying whole.
Digital delay evokes memory in Kevin Malone's The Last Memory (1996) for clarinet, the composer exploring events and feelings around his father's illness. Composer John Adams honours his clarinetist father's tutelage, American musical roots and final years in the intriguing Gnarly Buttons (clarinet and small orchestra). Agile solos by Jordan, and Stephen Barlow's precise conducting, are complemented by jazz timbres, sampled sounds, and pert banjo or mandolin interjections. Amidst this bundle of surprises, the peaceful opening of the finale, Put Your Loving Arms Around Me, is extraordinally calming.