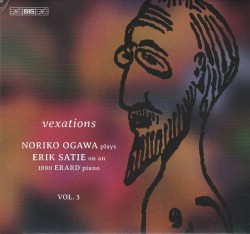 Erik Satie – Vexations
Noriko Ogawa (1890 Érard Piano)
Bis BIS-2325 (naxosdirect.com)
Erik Satie – a true forerunner of the Impressionist school or an accomplished but eccentric dilettante? Nearly 100 years after his death, the composer from Normandy – bearded and bespectacled – continues to be a source of controversy. His music always demonstrated a particular diversity of styles, all of which reveal a strikingly original musical personality – and this BIS recording of Vexations performed by pianist Noriko Ogawa on an 1890 Érard instrument, is yet another example of his eclecticism.
The set reputedly dates from the early 1890s. Typically, Satie provided no information about it, the only source being a scribbled single-page manuscript discovered after his death. From the outset, it's clearly evident that this is music like no other. The score begins with a single-line 18-note theme which is then repeated, this time used as a bass line for two voices above it moving in tritone harmony. Following a repeat of the single-line theme, the harmonization is then inverted. According to Satie's instructions, the sequence is to be repeated 840 times! Nevertheless, Ogawa has opted for a more manageable repetition of a mere 142, bringing the length of the performance to a practical 80 minutes. She successfully varies her interpretation through shifts in dynamics and articulation, and in all, delivers a poised and sensitive performance. The result is music which is haunting, unsettling and after a while, possibly even hypnotic.
So, is the final result mesmerizing or futile? Indeed, that would be up to the listener to decide. If you're seeking something light and melodic to relax to on a summer's evening, this isn't it. On the other hand, the ambience created is perfect for quiet reflection or meditation – all we need are the candles and incense!