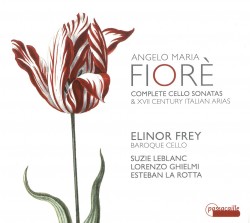 Angelo Maria Fioré – Complete Cello Sonatas
Elinor Frey; Suzie LeBlanc; Lorenzo Ghielmi; Esteban La Rotta
Passacaille 1026 (elinorfrey.com)
Oh my, this is an elegant recording! From the simple opening bars of Fioré's G Major Cello Sonata, the highest calibre of music-making is established and doesn't waver for the duration of the disc. There are three strands to the program: the complete sonatas for cello by the little-known cellist of the late 17th and early 18th century, Angelo Maria Fioré; a half-dozen arias by contemporaries of Fioré which feature cello obbligato lines; and two pieces from the same period for solo harpsichord.
The handsome CD booklet features a well-written, substantial essay by Elinor Frey on the early history of the cello, the life – such as we know it – of Fioré, and a detailed contextualization of the works on the program. The cello sonatas themselves are pleasant, have a great deal of variety and are clearly idiomatically suited to the instrument. Fioré was a few years younger than his celebrated contemporary Arcangelo Corelli, and his sonatas – at their best – share a drive and musical interest with Corelli's early trio sonatas.
The arias are by Paolo Magni, Francesco Ballarotti and other rather obscure Italians of the mid-Baroque and have themes of – what else? – the raptures and torments of love. The highlight is Magni's É caro il tormento soave il dolor featuring sophisticated and truly moving interplay between Suzie Leblanc's voice and Frey's cello.
The performances throughout are well-conceived, leaving ample room for spontaneity and fancy. Kudos to Lorenzo Ghielmi and Esteban La Rotta for their warm and classy support.