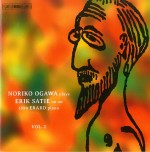 Noriko Ogawa has just released the second volume of her project to record all the solo piano works of Erik Satie, Noriko Ogawa plays Erik Satie (BIS 2225 SACD). Both this disc and Volume I are performed on an 1890 Erard grand piano, an instrument from the period of Satie's life (1866-1925). The piano maker Erard was noted for numerous innovations in piano design, especially the double escapement action which allowed for rapid note repetition, a feature ever more in demand by composers of the late 19th century. The instrument used in this recording is in remarkably fine condition, sounding well-voiced and mechanically capable of the frequent staccato touch, often at great volume, that Satie requires.
Ogawa's choice of repertoire for Volume II offers a more esoteric and quirky side of Satie's personality, the two sets of preludes for flabby dogs, Préludes flasques (pour un chien) being a case in point. The Trois sarabandes are untitled early works, although the second of the three is dedicated to Ravel. These are surprisingly forward-looking, with a feel that occasionally evokes a modern jazz club. Sports et divertissements is a catalogue of 21 social pastimes, often quite comical, and each requiring less than a minute to play.
Ogawa has a very credible understanding of French music of this period, although Satie admittedly sits comfortably outside the mainstream. Still, her previous recordings of the complete piano works of Claude Debussy reveal a studious and comprehensive approach that offers a convincingly genuine feel to her interpretation of Satie's music.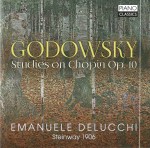 Emanuele Delucchi is a young Italian pianist with extraordinary technical ability. His recording Godowsky Studies on Chopin Op.10 (Piano Classics PCL0122) is a rare opportunity to hear this unusual repertoire. Godowsky claimed his studies were equally appropriate for public concert as well as private playing. The music is always immediately recognizable as Chopin, but Godowsky has taken the material and recomposed it as a series of studies for aspiring players. They are devilishly difficult and intentionally so. Many are written for left hand alone and just one is for a solo right hand.
Godowsky takes Chopin's main thematic material and moves it around, often from one hand to the other, meanwhile creating Chopin-style cascades of other figures around it. Some of these transcriptions are quite strict, others freer, and still others structured as cantus firmus and variation versions. It's altogether quite an experiment and in its day would have sparked a debate about originality and legitimacy. Anticipating this, Godowsky was careful to include introductory remarks in his publication to clarify his aims. Essentially, he believed that pianists, composers and piano builders had more evolutionary potential to realize. Hence, the Herculean challenge.
Despite all the muscle and stamina, Godowsky's music is not without its beauty. Chopin's genius remains intact, both musically and technically. Delucchi ensures that technique is never glorified at the expense of art. He plays a beautifully restored 1906 Steinway, from Godowsky's day.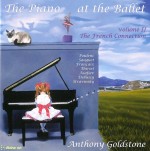 Known as "Tony" to his friends, British pianist Anthony Goldstone passed away early this year (2017) and was unable to see his last CD released. A superb pianist equally appreciated as a soloist as well as half of the Goldstone and Clemmow Duo, his final recording, The Piano at the Ballet Volume II - The French Connection (Divine Art dda 25148) is dedicated to his memory.
Goldstone delighted in transcriptions and recorded several featuring music from opera and ballet. This disc is the conclusion of the latter project and uses French composers as the thematic link. Most of the pieces are world premiere recordings, transcribed by various others, although the notes admit that Goldstone made a few improvements along the way.
Goldstone's playing at age 72 is simply incredible. Speed, reach, accuracy and, above all, unerring musicality mark every transcription he performs. The music tends, understandably, to be extremely athletic and Goldstone's level of sustained energy is impressive. The finales of Poulenc's Les Biches and Maurice Thiriet's L'Oeuf à la coque are fine examples of this. He also captures the grandness of the orchestral score in these transcriptions. Claude Debussy's Printemps (Suite Symphonique) is the best example of this, with its great washes of sound that conclude the second movement.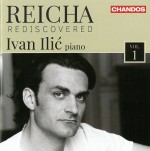 Reicha Rediscovered Vol.1 (Chandos CHAN 10950) is the promising launch of a series that will see pianist Ivan Ilić record the largely unheard solo piano works of a composer better known for his wind ensemble pieces. A contemporary of Beethoven, Reicha was highly educated and musically intelligent. A number of his later theoretical and philosophical treatises were translated for major European music circles.
The challenge for Ilić is to find and integrate the unique features of Reicha's language into his playing. The modern ear hears Reicha and understandably recognizes some Haydn, some Mozart and occasional tempestuous bursts of a young firebrand named Beethoven. But the new ground Reicha was breaking was harmonic. The disc contains three pieces from Reicha's collection titled Practische Beispiele. Ilić encounters each of the composer's adventurous modulations and plays through them with confidence that pianists of Reicha's day might well have lacked.
Other tracks include a wonderful set of variations on a theme from Mozart's The Magic Flute and a substantial mid-career Grande Sonate in C Major that reveals a composer struggling to be free of classical forms. The following volumes by Ilić look promising indeed.
Review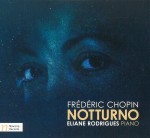 Brazilian pianist Eliane Rodrigues has recorded the 21 Nocturnes by Chopin on her newest disc Frédéric Chopin – Notturno (Navona Records NV6123). The two-disc set also includes the Ballades No.1 in G Mino, Op.23 and No.4 in F Minor, Op.52.
Rodrigues teaches at the Royal Conservatoire in Antwerp, performs frequently and has more than 25 recordings in her discography. She traces her Chopin connection to her earliest years at the keyboard playing the Waltzes and Mazurkas. But her affection for the Nocturnes is more than wistful nostalgia. A passing reference in her notes suggests a very deep and personal experience made the sadness and melancholy of the Nocturnes profoundly meaningful to her. As if to underscore this, she uses quotations from a fictitious Chopin diary to capture the mood of each Nocturne.
The playing, however, is the proof of her ownership. Entirely consistent and sustained throughout both discs, her interpretations never stray from the beauty and tenderness that Chopin poured into these pieces. Rodrigues never rushes anything. Arching phrases, ornaments and grace notes are all critical to completing the composer's every utterance, and she gives each one the time it needs to unfold. It's an arresting and beautiful performance.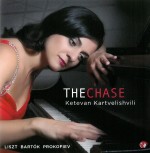 Ketevan Kartvelishvili is a power pianist. The title of her new recording The Chase – Liszt, Bartók, Prokofviev (Blue Griffin BGR 437) says it all. Using the title of the final movement from Bartók's Out of Doors Sz.81 BB89, Kartvelishvili establishes an ethos for this remarkable disc by demonstrating her formidable technique through this relentless onslaught of musical passion. It's not surprising that Bartók used this piece in his rather dark ballet The Miraculous Mandarin.
Kartvelishvili opens her CD with Liszt's Mephisto Waltz No.1 S514. She takes this at a blistering speed without ever losing momentum or intensity. Her performance of the Liszt Sonata in B Minor S178 is marvellous. By this point her technical skills are beyond question and what emerges is the tenderness Liszt requires to withdraw into his crucial moments of repose. Even at the sonata's conclusion, those final measures are powerfully hesitant and highly effective.
Prokofiev's Sonata No.7 in B Flat Major, Op.83 concludes the disc. It's the second of his three "War Sonatas" and is sometimes called the "Stalingrad." The outer movements are violent and destructive and leave no doubt about the work's origin in 1942 Soviet Russia. The middle movement offers Kartvelishvili another opportunity to reveal the depth of her musicality. With an allusion to a Schumann lied, the movement is fairly withdrawn until she builds it to a near climax in the second half before returning to a quiet ending.
Kartvelishvili plays with both impressive might and tender conviction.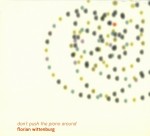 Florian Wittenburg is a German-born contemporary composer. He is active throughout Europe but his academic and early career years were spent in the Netherlands. Don't Push the Piano Around (NurNichtNur 117 01 26) is his latest disc and it adds to an already substantial discography and body of works. Pianist Sebastiaan Oosthout performs on this disc and reveals a strong affinity for Wittenberg's music. Wittenberg is highly creative and takes his artistic inspiration from everything around him. As a composer, he revels in playing with patterns and sequences. Whether animal sounds, words, or the spelling of a name, Wittenberg is quick to place his subject into changing structures where he plays with progressions and variants.
Oosthout's grasp of Wittenberg's language gives him access to the deep emotion of the music, especially in several of the Quotes. Litany for one pianist is particularly effective as a thoughtful and searching work, in which Oosthout is required to whistle along with a few specific notes he plays. But the most captivating of Wittenberg's works on this disc is the opening track Eagle prayer. It's based on the call of an African fish eagle, notated and harmonized in a highly engaging and creative way. This is an intriguing recording worth hearing.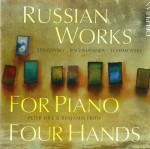 It's uniquely gratifying to hear the work of piano duos when they have performed together for many years. Peter Hill and Benjamin Frith have been crafting their sound for more than three decades into an impressive single voice. Their newest recording, Russian Works for Piano Four Hands (Delphian DCD 34191) is an example of how remarkable the combination of such talents can become. They have moved far beyond simply playing together and evolved a unified conception of making music.
This disc presents the music of three composers for whom folk music played an inspirational role. While Rachmaninov's Six morceaux Op.11 quotes no folk material, it's written in a style that recalls the dance and energy of folk traditions. Rachmaninov was just 21 but his writing already shows the now-familiar ability to think in large-scale terms. He uses the entire range of the keyboard without hesitation and draws on its dynamic power, amplified under the hands of two players. Hill and Frith are superb in meeting the contrasting demands of this piece, from the gentlest moments of the Romance to the magnificent ending of Slava.
The selections from Tchaikovsky's Fifty Russian Folk Songs quote directly from folk material, although much of it very briefly; there is, however, no mistaking the focus that Hill and Frith bring to this work. Their touch and tone are wonderfully connected to the often dark modal nature of the melodies.
Stravinsky's Petrushka is brilliantly played throughout. Flawless execution is matched by complete immersion in the music. The piano duo delivers the Russian Dance with all the wild energy it requires and Petrushka's Death with the contrasting gravitas the composer intended. Hill and Frith are true masters of their art.