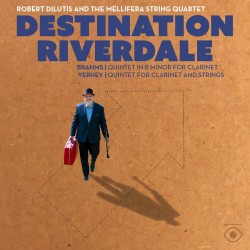 Destination Riverdale – Brahms; Verhey
Robert Dilutis; Mellifera Quartet
Tonsehen (tonsehen.com)
Pessimism never sounded as sweet as in the last great chamber work of the 19th century, Brahms' Quintet for Clarinet and Strings Op.115. If music is meant to console, this work will assure you that your grief is entirely justified. Weep freely. The very capable Mellifera Quartet and clarinetist Robert Dilutis join forces for this, and to present an arrangement of the Concerto for Clarinet and Strings by Theodorus Verhey. An effective arrangement by Ray Fields notwithstanding, the piece doesn't hold a candle to Brahms. Its inclusion reflects Dilutis' enthusiasm for discovering repertoire, coupled with the odd fact that clarinetist Richard Muhlfeld served as muse for both composers. Only one of the two managed something truly worth keeping.
There's a great deal to like about this version of Opus 115. The tempi keep the piece buoyant, when too easily it can become lumberish. Cellist Benjamin Wensel's sound is just so deep, as God and Brahms intended. Sometimes I find the balances odd and I suspect a heavy hand at the mixing board. Dilutis plays a keen and expressive clarinet, usually in tune with the strings, if tending sharp at times.
The group make interesting pacing decisions in the rhapsodic section of the Adagio, not all of which I agree with, but respect nevertheless. The third movement reminds one that joy is still accessible to the aged (he was only 60-ish for heaven's sake). Its two opposing characters are played (correctly) in a uniform pulse; smaller beat subdivisions rather than a change in tempo bring forth the contrast. In general, the group avoids any self-indulgent tempo variation, which feels somewhat austere: they might have allowed more flexibility in pulse, especially in the development section of the first movement. Well-resined horsehair renders the heartbeat motif accompanying the sad duet between the clarinet and first violin. They remind one that the heart is, after all, a muscle. The devastating return of the opening thematic material that arrives at the very close of the Con Moto finale plays at the same pulse as the opening, undermining the tragedy. Call me sentimental, but I think the sorrow-filled final utterances should linger just a bit more.