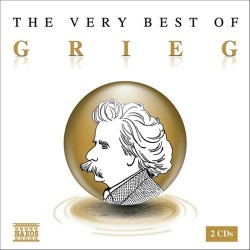 The Very Best of Grieg
Various Artists
Naxos 8.552123 (naxos.com/Search/KeywordSearchResults/?q=8.552123)
Some time ago in Berlin, Sir Simon Rattle organized a youth orchestra of teenage students at the Philharmonie to learn and play Grieg's In the Hall of the Mountain King. It was fun to watch the various instruments come in one by one, adding layer upon layer to the sound, a steady crescendo and accelerando controlled superbly by Rattle culminating in a world of total mayhem and a rousing success. I suddenly realized how extraordinarily clever, intricate and difficult a piece it was. A work of genius and one of The Very Best of Grieg.
Thanks to this brilliant and comprehensive sampling from Naxos on two CDs I am totally immersed in Grieg's music. I feel there is an unmistakable Norwegian sound world that's immediately recognizable. Grieg is considered to be part of the struggle for national awareness and independence that swept through Europe in the second half of the 19th century. Each smaller nation had a voice, a leading composer like Liszt for Hungarians, Smetana and Dvořák for the Czechs, Enescu for the Romanians, Sibelius for the Finns etc.
Grieg was a prolific composer, but essentially a pianist, so most of his works are for solo piano, but these were often orchestrated and much colour and harmony were added to the pieces. He was a miniaturist. His strength lies in capturing immediately a simple, but incisive and beautiful melody, developing it quickly, so most of his pieces are very short, four minutes or less. He published ten books of Lyric Pieces. Some of these are very memorable, for example, The Wedding Day at Trolhaugen, Berceuse, Notturno, Butterfly, Brooklet, Cradle Song, I love but thee, To the Spring and more. Also, Songs for soprano that are devilishly difficult to sing.
The longer works such as the Piano, Violin and Cello Sonatas and the String Quartets are represented here by just a movement. But we mustn't miss his orchestral music: Holberg Suite, Sigurd Jorsalfar, two Peer Gynt Suites and most importantly the Piano Concerto in A Minor, one of most beautiful Romantic concertos ever written.
His contemporary, Tchaikovsky said about Grieg: "What charm, what inimitable and rich musical imagery. What interests, novelty and independence!" So true.