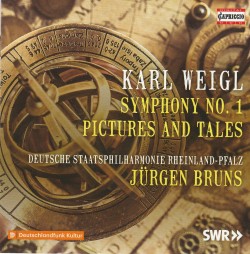 Karl Weigl – Symphony No.1; Pictures and Tales
Deutsches Staatsphilharmonie Rheinland-Pfalz; Jürgen Bruns
Capriccio C5365 (naxosdirect.com)
Karl Weigl (1881-1949) was a succesful Vienna composer and teacher whose Jewish origins forced him to emigrate in 1938. In the United States he remained active but it has taken a long time for his relatively conservative music to receive the acclaim it deserves. The Symphony No.1 (1908) demonstrates his mastery of a personal late-Romantic style, opening with pastoral cheerfulness and a lyrical Viennese touch. The busy scherzo features chattering winds and sophisticated play with cross-rhythms and syncopations. Especially good is the slow movement – a yearning fantasy in the strings. Again in the third movement, woodwinds take a prominent role and there is a tremendous passage of multiple wind trill chains that must be heard – a true chorus of nature! In this work there is little fin-de-siècle brooding. The high-register orchestration is outstanding again in the finale, a somewhat parodistic march ending with a boisterous close.
In a much different vein, Weigl composed Pictures and Tales, Op.2 (1909), a set of short piano pieces which he orchesterated into a suite for small orchestra in 1922. The title alludes to scenes and images from fairy tales, e.g. Stork, Stork Clatter or Elves Dance in the Moonlight, with deft and transparent orchestration and appeal for children and adults alike. Jürgen Bruns is a much-in-demand conductor who has led a much-needed recording that would likely delight the composer even more than us.