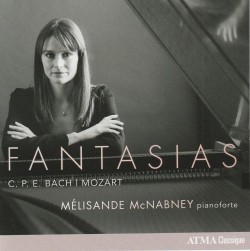 Fantasias
Mélisande McNabney
ATMA ACD2 2812 (atmaclassique.com/en)
The fantasia is an old and well-traversed musical form that reached its peak in the 18th and 19th centuries, combining improvisational flourishes, compositional skill and virtuosic panache into a single work. Many of music's greatest minds have written fantasias for a range of keyboard instruments, including J.S. Bach's works for harpsichord and organ, Mozart's pianoforte fantasias and Liszt's immense organ fantasias. This disc focuses on music written by three Baroque and classical-era luminaries: Johann Sebastian Bach; his son, Carl Phillip Emmanuel Bach; and Wolfgang Amadeus Mozart, performed on the fortepiano by Montreal-based keyboardist Mélisande McNabney.
The decision to begin a fortepiano-centred recording with J.S. Bach's Chromatic Fantasia and Fugue, BWV903 is an interesting one, as Bach almost certainly composed this work with the harpsichord in mind. (The fortepiano was invented in 1698, while J.S. Bach died in 1750; it's not implausible to think that Bach was acquainted with early models of the fortepiano, but there is no evidence that he composed anything specifically for that instrument.) For those familiar with BWV903 performed on rhythmically percussive, reverb-rich harpsichord recordings, McNabney's choice of instrument provides a drier and less aggressive approach, with more room for flexibility and rubato.
The remainder of the disc is comprised of smaller works by C.P.E. Bach and Mozart, as well as the large-scale Fantasia in C Minor, K475. This is, perhaps, the most successful combination of composition and instrument, as the moody affect combines with the fortepiano's unique timbre and ability to produce contrasting dynamics with great success. Fantasias leaves little doubt that McNabney is a master keyboardist and skillful interpreter; this, combined with the charming and dramatic music itself, makes for a highly recommended recording, especially for those with a particular interest in early instruments.