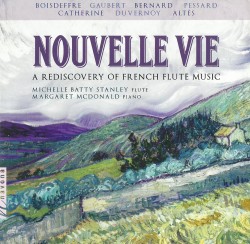 Nouvelle Vie – A Rediscovery of French Flute Music
Michelle Batty Stanley; Margaret McDonald
Navona Records NV5135 (navonarecords.com)
Nouvelle Vie, by flutist Michelle Batty Stanley and pianist Margaret McDonald introduces us to some lesser-known compositions and composers working during the years of the Belle Époque in Paris. It also includes three better-known works by Philippe Gaubert, who might be considered a child of the Belle Époque, since the year of his birth was 1879.
René de Boisdeffre's Canzonetta, Op.39 No.8, provides the recording with a strong opening and is played with vivacity, precision and grace. Stanley's articulation, something much more difficult on the flute than on most other instruments, is terrific, pretty well as good as Aurèle Nicolet – and her use of rubato at the ends of phrases and the subsequent a tempi are an inspiration!
Émile Bernard's Romance, Op.33, which, with its long, languorously lyrical phrases, could only have been written by a French composer, was also new to me, as were Émile Pessard's Troisième and Quatrième Pièces, every bit as interesting as his delightful and better known Andalouse.
Alphonse Catherine's Barcarolle, with its nautical undulating 6/8 piano part (played exquisitely on this recording by McDonald), and his Sérénade Mélancolique, which begins evocatively, a bit like Taffanel's Andante Pastoral et Scherzettino, are both charming and suggest that the golden age of the flute continued beyond the 1880s and 90s, since Catherine lived until 1927.
Victor-Alphonse Duvernoy's Deux Morceaux and Joseph-Henri Altès' Romanza, Op.33 No.1, also new to me, are also wonderful.