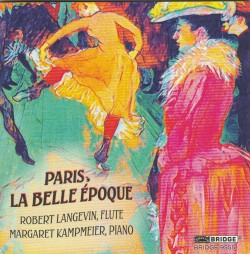 Paris, La Belle Époque
Robert Langevin; Margaret Kampmeier
Bridge Records 9555 (bridge-records.com)
Robert Langevin, a native of Sherbrooke, Quebec has served as associate principal flute of the Montreal Symphony and, since 2000, principal flute of the New York Philharmonic. In this CD, he and pianist Margaret Kampmeier scintillate in ten delectable works composed during France's "Belle Époque" (1871-1914), when Paris, rebounding after France's defeat in the Franco-Prussian War, again became a leader of European arts and culture.
The luxuriantly liquid melodies of Charles-Marie Widor's Suite, Op.34, offer a musical counterpart to the entrancing beauties of Monet's celebrated, willow-draped lily pond in Giverny. Jules Mouquet's three-movement La flûte de Pan, Op.15, depicts the nature-god cavorting with shepherds, birds and nymphs. The second movement, Pan et les oiseaux, is especially ravishing, as "ancient" modal melodies float over harp-like piano plinks and arpeggios.
Gabriel Fauré's Fantaisie, Op.79 and Morceau de concours, the latter a sightreading test-piece for students at the Paris Conservatoire, are in Fauré's familiar ambulatory, lyrically captivating style. George Enescu's Cantabile et presto and Philippe Gaubert's Nocturne et allegro scherzando were also composed for Conservatoire competitions. Both are very Fauré-like in character, as is Gaubert's lovely Madrigal. Gaubert's charming Fantaisie suggests the influence of Debussy, who closes this CD with two treasures of the flute repertoire, Prélude à l'aprés-midi d'un faune (arranged for flute and piano) and Syrinx for solo flute.
Throughout, Langevin's flute seems a living thing, a "magic flute" with a mellifluous voice and amazing acrobatic agility, yet always exquisitely graceful. Bravissimo!