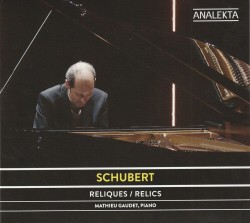 Schubert – Relics
Mathieu Gaudet
Analekta AN 2 9186 (analekta.com/en)
When Schubert's unfinished Sonata in C Major D840 was published in 1861, the publisher gave it the title Reliquie (Relic), a name which shall forever remain a mystery. The title was deemed worthy enough to be given to this Analekta recording featuring this and the Sonata in A Major D664 with pianist Mathieu Gaudet, the sixth volume in an ongoing series presenting Schubert's complete piano sonatas and major piano works.
Despite its incomplete state, the Sonata D840 is monumental in size and there were opinions that it may even have been intended as a piano version of a large-scale symphony. Indeed, the majestic opening movement – all 16 minutes of it – is truly symphonic in spirit with large block chords and much unison writing which Gaudet handles with a solid assurance. The minuet and trio – which never progressed beyond the recapitulation – is more "scherzo" than "minuet" while the sprightly Rondo Finale is halted at mid-development. (The recording uses an alternate ending by pianist Paul Badura-Skoda.)
The Sonata D664 was composed during the summer of 1819 and is now known as the Little A Major Sonata to differentiate it from the much lengthier work (D959) in the same key from 1828. This is placid and lyrical music, with Gaudet offering up a fine legato, a fluid sense of rhythm and a keen sense of phrasing. The well-known Finale-Allegro is particularly joyful where Gaudet's hands breathe new life into this familiar repertoire.
An added bonus is the brief Danse Allemande et Ecossaise D643, an appealing interlude between the two sonatas. For lovers of Schubert – or Romantic period piano music – this is another welcome addition to the series and we can look forward to more.