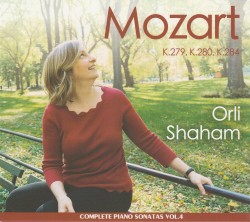 Mozart – Complete Piano Sonatas Vol.4
Orli Shaham
Canary Classics CC23 (canaryclassics.com)
Violinist Gil is not the only Shaham who is making waves wherever classical music is adored. His younger sister Orli has been showing the world that her steely, lyrical pianism is eminently suited to the performance of Wolfgang Amadeus Mozart. However, rather than put on a show with Mozart's more celebrated piano music the younger Shaham is focusing her attention on Mozart's lesser-performed sonatas en route to giving us a complete collection of the elegantly sparse works with their virtually endless supply of sparkling melodies,
Volume 4 of the ongoing series features three of the earliest sonatas – the F Major, No.2 K280, the C Major No.1 K279 and the D Major, No.6 K284, Dürnitz. Should there be any question as to why these (early) works grace the fourth volume of Shaham's Mozart Complete Piano Sonatas the answer lies in the simple fact that they are no less technically demanding, being as they are of great harmonic ingenuity and melodic richness, as the later sonatas.
The Allegro and (especially) the Rondeau en Polonaise: Andante movement of the Dürnitz are cases in point. The latter – in Shaham's skilful hands – reflects a pre-eminently graceful Polish dance of Mozart's vivid imagination. As with Volumes 1, 2 and 3 Shaham's delicate phrasing brings out the cornucopia of Mozart's melodic delights from end to end on this disc, but especially in the filigreed brilliance of the Dürnitz sonata.