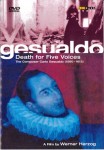 Gesualdo - Death for Five Voices
Werner Herzog
ArtHaus Musik 102 055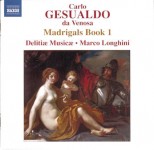 Gesualdo - Madrigals Book 1
Delitiae Musicae; Marco Longhini
Naxos 8.570548

The sordid tale of a murderous prince is alluring; all the more so when the subject is also a supremely innovative composer for his time. While certainly intriguing for music aficionados, Carlo Gesualdo seems to have also left a legacy of fascination bordering on obsession for the current-day inhabitants of the village attached to his castle's ruins. In 1586, he married his beautiful cousin, Maria d'Avalos. Only a few years later, in a pre-meditated act of jealous rage, he murdered Maria and her lover and displayed their bodies first on the steps of the house, then preserved them for display in a nearby church. Being a prince, he was never prosecuted for this "crime of passion" or for subsequently killing their young son, nonetheless, he did torture himself through unrelenting flagellation for the rest of his days.

Werner Herzog's movie Death for Five Voices takes his audience on a tour of this house of horrors through the eyes of colourful local inhabitants: the bagpiper who regularly flushes out evil spirits, a mad opera singer who thinks she's the reincarnation of Maria and local chefs who describe the decadent 120-course wedding feast. A few of his madrigals are performed by the Gesualdo Consort and Il Complesso Barocco led by Alan Curtis who also provides useful musical commentary. Both of these ensembles perform this difficult repertoire with its many harmonic and rhythmic twists and turns most admirably, if a bit too scholarly. The women do manage to evoke some of the sensuality of the "Three Ladies of Ferrara" that Gesulado would have certainly known from the house of his second wife Leonora d'Este (who later fled to a nunnery).

I did prefer the inclusion of female voices when comparing these performances with a recent recording of Gesualdo's Madrigals Book 1 by Delitiae Musicae, an all-male ensemble led by Marco Longhini. That preference aside, this group does a superb job of conveying the sweet and painful longings inherent in texts by Guarini and Tasso made ever so much more excruciating by Gesualdo's dissonances, chromaticism and quick tonal discombobulations. The group's purity of tone and precise intonation ensures that these turns are well articulated and deeply understood.

Both DVD and CD releases provide artfully crafted insights into a virtuosic but deeply disturbed individual. Gesualdo's history and his music are neither for the faint of heart nor the disingenuous.