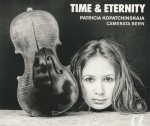 Space restrictions make it difficult to fully describe Time & Eternity, the remarkable new CD from the brilliant and visionary violinist Patricia Kopatchinskaja with Camerata Bern (Alpha Classics ALPHA 545 naxosdirect.com). This is the fifth in a series of "staged concerts," a concept that Kopatchinskaja has been developing since 2016, and her second with this ensemble, of which she has been artistic director since autumn 2018.
Described as "music made out of the blood and tears of tortured souls," the core works are the Concerto funèbre by Karl Amadeus Hartmann, written in 1939 in response to the Nazi outrages, and Frank Martin's violin concerto Polyptyque, inspired by six 14th-century altar panels of the Passion of Christ.
That barely scratches the surface of a continuous performance that often feels like a religious service: there's John Zorn's solemn and moving Kol Nidre; contributions by cantors and Polish and Russian Orthodox priests; song; and, around and between the six Polyptyque movements, the Kyrie from Machaut's Messe de Nostre Dame, transcriptions of five Bach chorales and – in place of the Crucifixion panel that Martin omitted – Luboš Fišer's pain-laden Crux for violin, timpani and bells.
It's an enthralling and emotional journey from the opening spoken Kol Nidre to the fading tolling bell of the final track, with faultless performances from all involved.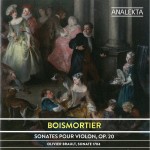 The Canadian violinist Olivier Brault is Professor of Baroque Violin at McGill University and has been active in the Baroque music world for over 30 years. In 2007 he completed a doctorate on French music for violin and figured bass, so it's no surprise to find that his new CD, Boismortier Sonates pour Violon Op.20, beautifully performed here by Sonate 1704, the ensemble Brault formed in 2003 with Dorothéa Ventura on harpsichord and Mélisande Corriveau on bass viol, is an absolute gem (Analekta AN 2 8769 analekta.com/en).
The six sonatas by the French composer Joseph Bodin de Boismortier were published in Paris in 1727, and while they show the increasing influence of Italian violin playing, the French style is still much in evidence, especially in the use of dance movements, with Giga, Corrente, Gavotta, Allemande and Sarabanda accounting for more than half of the movements.
Warm, sparkling playing of richly inventive works makes for an immensely satisfying CD.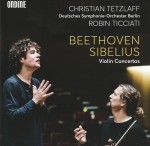 You can always count on violinist Christian Tetzlaff for something insightful and challenging, and so it proves to be again in Beethoven and Sibelius Violin Concertos, his new CD with Robin Ticciati and the Deutsches Symphonie-Orchester Berlin (Ondine ODE 1334-2 naxos.com/).
Tetzlaff has recorded both concertos before, but clearly feels he has more to say – or to add, perhaps – this time around. Quite striking, given our being accustomed to the Auer, Joachim and Kreisler cadenzas, is the use of the first movement cadenza with added timpani that Beethoven wrote for his transcription for piano and orchestra, as well as cadenzas and ornamentation by Beethoven in the other two movements (again presumably back-sourced from the piano version, as there were none in the original violin score), although Tetzlaff says in the booklet conversation that he has never done it differently.
Insightful comments on both the Beethoven and Sibelius help to illuminate his approach to their performance and both the physical and intellectual demands. The performers are clearly of one mind in engrossing, intelligent and deeply satisfying performances.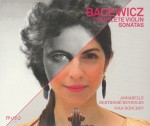 Annabelle Berthomé-Reynolds is the soloist on Bacewicz Complete Violin Sonatas, with pianist Ivan Donchev joining her in a 2-CD recital of works by the Polish composer Grażyna Bacewicz (muso mu-032 muso.mu).
Bacewicz was an outstanding violinist as well as a more than capable pianist, and numbered seven violin concertos, seven string quartets and concertos for piano, viola and cello in her output. The five numbered sonatas for violin and piano span the period 1945-1951, with the Partita for Violin and Piano following in 1955. All display a high level of both structural assurance and familiarity with the technical and expressive potential of the instruments.
There are also two powerful Sonatas for Solo Violin – the clearly Bach-inspired No.1 from 1941, written in Nazi-occupied Warsaw, and the quite progressive No.2 from 1958, with its haunting Adagio and brief but dazzlingly virtuosic final Prelude, described in the excellent booklet notes as a "breathtaking frenzy of double-note glissandi spiccato."
Engrossing performances make for an exceptional set.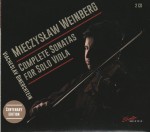 Another exceptional 2-CD set of complete works is Miecysław Weinberg Complete Sonatas for Solo Viola in quite superb performances by Viacheslav Dinerchtein (Solo Musica SM 310 naxosdirect.com).
The four numbered sonatas were composed between 1971 and 1983, and are issued here in a centenary edition in celebration of the 100th anniversary of the composer's birth.
Weinberg's music continues to be reassessed and promoted, and outstanding releases like this one will clearly help to cement his standing in 20th-century music.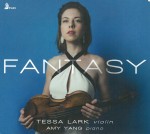 The American violinist Tessa Lark makes a stunning solo CD debut with Fantasy, a selection of fantasies and rhapsodies from four centuries (First hand Records FHR86 firsthandrecords.com).
Three of Telemann's 12 Fantasias for Solo Violin – No.1 in B-flat, No.4 in D and No.5 in A – are spread throughout the disc, with Lark's own Appalachian Fantasy providing a breathtaking display of virtuosic fiddling in her native Kentucky tradition, reworking the Schubert song that opens his Fantasie in C Major and melding it with tunes from Appalachia. Pianist Amy Yang joins Lark for an outstanding performance of the Schubert Fantasie, as well as for Fritz Kreisler's Viennese Rhapsodic Fantasietta – Lark producing ravishing tone and perfect style – and a simply dazzling and passionate performance of Ravel's Tzigane – Rhapsodie de concert.
It's a recital of the highest calibre.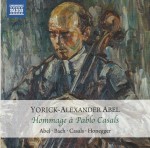 Cellist Yorick-Alexander Abel is outstanding in Hommage à Pablo Casals, a program honouring the legendary Catalan cellist (Naxos 8.551418 naxos.com).
Two of Abel's own improvisations – Prélude "Lampes de Sagesse" (Lamps of Wisdom) from 2000 and Prélude "Sagesse Amérindienne" (Native American Wisdom) from 2010 – frame a fine performance of Bach's Suite in G Major BWV1007.
The Suite Per Violoncel Sol "A Pau Casals" is a striking work in remembrance of his older brother written by Casals' violinist/composer younger brother in 1973, the year of Pablo's death. Arthur Honegger's brief Paduana from 1945 and Pablo Casals' own Cant dels Ocells (Song of the Birds), based on a Catalan Christmas song, round out a memorable CD.
There are two excellent string quartet CDs from Alpha Classics this month, both featuring Mozart's String Quartet No.15 in D Minor K421 and with little to choose between them.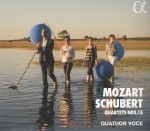 Quatuor Voce is the ensemble on Mozart Schubert Quartets Nos.15, the Mozart paired with Schubert's String Quartet No.15 in G Major D887 in recordings made with a mix of live concert and studio sessions – not that you can tell (ALPHA 559 outhere-music.com/en). There's a warm, measured opening to the Mozart, a work often played with a stress on the inner turmoil of this significant key for Mozart – the key of Don Giovanni, the Piano Concerto No.20 K466 and the Requiem. There's passion here though, albeit implied rather than explicit, with the hint of despair always restrained.
The same sensitivity and depth is equally evident in the monumental Schubert quartet.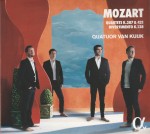 On the Quatuor Van Kuijk's MOZART the K421 quartet is paired with the String Quartet No.14 in G Major K387 and the Divertimento in F Major K138, the latter in its original form for four solo strings (ALPHA 551 outhere-music.com/en).
The D-minor quartet leans more towards the dramatic here than in the Quatuor Voce performance, with less vibrato, more articulation and dynamic contrast and more overt anguish – in the final chords, for instance. There's never a shortage of warmth, however, and the same qualities are evident in a vibrant performance of the K387 G-major work.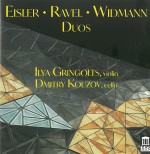 Violinist Ilya Gringolts and cellist Dmitry Kouzov are the performers on Eisler Ravel Widman Duos, a CD that features two 20th-century works and one from the 21st (Delos DE 3556 delosmusic.com).
Hans Eisler studied with Arnold Schoenberg, and the latter's influence can be heard in the brief two-movement Duo for Violin and Cello Op.7 from 1924, albeit with the 12-tone approach given a softer and more audience-friendly treatment.
The central work on the disc is the two-volume 24 Duos for Violin and Cello from 2008 by the German composer Jörg Widmann. Nine of the pieces are under one minute in length and the longest only just over three minutes, but the double stopping and special effects present technical difficulties that bring brilliant playing from Gringolts and Kouzov in music that is challenging but always interesting. With Widmann himself saying "Sensational!!! You understand every fibre of my music" about the performances, these world-premiere recordings can be considered definitive.
A fine reading of Ravel's Sonata for Violin and Cello from 1922 completes a fine CD.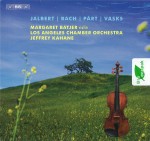 The Los Angeles Chamber Orchestra and their concertmaster Margaret Batjer perform concertante works for violin from across three centuries on Jalbert & Bach Violin Concertos, with Jeffrey Kahane conducting (BIS-2309 bis.se).
The 2017 two-movement Violin Concerto by the American composer Pierre Jalbert was co-commissioned by the LACO and is heard here in a world-premiere recording. The violin's lyrical qualities are fully exploited from the quiet and ethereal opening through the rhythmic contrasts of the energy-filled second movement.
Bach's Violin Concerto In A Minor BWV1041 follows in a solid performance, and the disc closes with two 20th-century works by Baltic composers: Arvo Pärt's Fratres, written in 1977 and heard here in the composer's own 1992 arrangement for violin, string orchestra and percussion; and Pēteris Vasks' quite beautiful Lonely Angel, a 2006 re-working of the final movement from his 1999 Fourth String Quartet. Batjer shows gorgeous tone and control in a solo line written mostly in the highest register.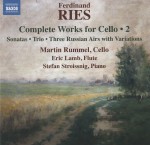 The excellent cellist Martin Rummel is back with Volume 2 of Ferdinand Ries Complete Works for Cello with pianist Stefan Stroissnig (Naxos 8.573851 naxos.com). Volume 1 is available on Naxos 8.57726.
Ries left a sizeable œuvre of over 200 compositions on his death in 1838, few of which are remembered. Included here are: the Cello Sonata in C Minor WoO2 from 1799, one of the earliest of its genre and written when Ries was only 15; the Trois Aires Russes Variés Op.72 from 1812; the Introduction and a Russian Dance Op.113 No.1 and the Cello Sonata in F Major Op.34, both from 1823. Eric Lamb is the flutist in the 1815 Trio for Flute, Cello and Piano in E-flat Major Op.63.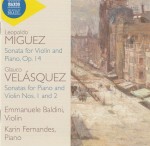 Violinist Emmanuele Baldini and pianist Karin Fernandes perform sonatas by two leading figures in Brazilian classical music at the turn of the last century on Miguez and Velásquez Sonatas in the Naxos Music of Brazil series (8.574118 naxos.com/).
The Sonata No.1 for Violin and Piano, "Delirio" from 1909 and the Sonata No.2 for Violin and Piano from 1911 by Glauco Velásquez, who was only 30 when he died in 1914, are really attractive works with a warm Latin feel. The Sonata for Violin and Piano Op.14 by Leopoldo Miguez (1850-1902) is from 1885, and while it feels structurally stronger than the Velásquez works and more in the standard 19th-century sonata mode, it also has less of a Latin feel.
Baldini's playing is radiant and idiomatic, with Fernandes particularly brilliant in the demanding piano writing in the Miguez sonata.