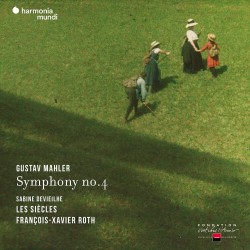 Mahler – Symphony No.4
Sabine Devieilhe; Les Siecles; Francois-Xavier Roth
Harmonia Mundi HMM905357 (store.harmoniamundi.com)
The French conductor François-Xavier Roth is in great demand these days, and for good reason. Recently appointed music director of the peerless Gürzenich-Orchester in Cologne and principal guest conductor of the London Symphony Orchestra, among his notable accomplishments was his founding of the Les Siècles orchestra in 2003, featuring instruments appropriate to the period of composition of a given era. Their 2013 rendition of the original version of Stravinsky's Rite of Spring garnered immense praise.
They now turn their attention for the second time to the music of Mahler. The excellent program notes include an interview with Roth, an overview of the work, and a scrupulous listing of the exact models of the wind instruments employed. The piercing sound of the wind instruments and the beefy sound of the period Viennese horns are particularly impressive, much more assertive and biting than our homogenized contemporary models. The string section employs gut strings and plays without vibrato, bringing an unaccustomed serenity to the slow third movement. Combined with Roth's Apollonian interpretation, the complex counterpoint of the work benefits greatly. The mixing of the album is superb and Sabine Devieilhe's interpretation of the vocal finale is admirable.
My only reservation about this performance concerns an occasional lack of nuance, noticeably so in the uncanny second movement scherzo, which struck me as more of a generic waltz as opposed to the idiomatic micro-adjustments of the authentic Ländler tempo George Szell imparts in his classic 1967 recording. This symphony is the most compact and classical in Mahler's oeuvre and remains the most accessible entry point for Mahler neophytes. Not to be missed!