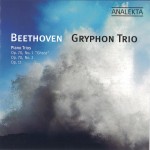 Beethoven - Piano Trios Op. 70 Nos.1/2; Op. 11
Gryphon Trio
Analekta AN 2 9860
It will surely come as no surprise to learn that the wonderful Gryphon Trio are in their usual superb form on this latest CD, the third and final volume in their recording of the complete Beethoven Piano Trios.
Included on this disc are the two Op.70 works from 1808 – the D major "Ghost" Trio and the E flat Trio – and the Op.11 B flat Trio from 1798, originally conceived for clarinet, cello and piano but published for clarinet or violin, apparently to increase the sales potential.
The Gryphons have been together for 17 years now, and their mutual understanding and sense of ensemble is unsurpassed. From the cascade of unison notes that opens the "Ghost", through the lengthy and eerie slow movement that prompted the work's sub-title, to the ebullient closing bars of the Op.11, there is never a moment when you don't feel that this must surely be the only way to play this music.
Jamie Parker, as usual, anchors the performances with his immaculately brilliant piano playing, and violinist Annalee Patipatanakoon and cellist Roman Borys are every inch his equal. In every possible respect – tempo, phrasing, dynamics, ensemble, style – this is playing and interpretation of the highest quality, and the result is an outstanding CD that adds to the Trio's already impressive catalogue of recordings.
Recorded in the Salle Francoys-Bernier at Domaine Forget in St. Irenee, Quebec, the sound is warm and resonant, and the balance ideal.