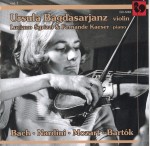 Ursula Bagdasarjanz Vol. 1: Bach; Nardini; Mozart; Bartok
Ursula Bagdasarjanz; Luciano Sgrizzi; Fernande Kaeser
Gallo CD-1248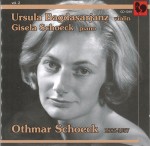 Ursula Bagdasarjanz Vol. 2 - Othmar Schoeck
Ursula Bagdasarjanz; Gisela Schoeck
Gallo CD-1249 (www.bagdasarjanz.com)
When the Swiss violinist Ursula Bagdasarjanz retired from the concert stage in the late 1990s, she compiled a CD collection of radio and live recordings of her performances. These were, in turn, re-mastered two years ago for a commercially available series that currently stands at four volumes.
I must admit Bagdasarjanz, now 76 years old, is a new name to me, but given the standard of her playing on these two fascinating discs it's difficult to understand why.
Volume One features works by Bach, Nardini, Mozart and Bartok, recorded between 1960 and 1969, and demonstrates not only Bagdasarjanz's performance range but also the consistent elements in her playing: a big, warm tone; faultless intonation; a fairly heavy (but not wide) vibrato which is always used intelligently and sensitively; and a sophisticated sense of phrasing. The Bach A minor solo sonata is technically flawless, with a great sense of line and some remarkably tight triple-stopping in the Fuga. The big tone is evident in the Nardini D major sonata, the Mozart Bb major sonata K378, and Bartok's First Rhapsody. The piano sound is slightly fuzzy in the Nardini, but otherwise the transfers are excellent.
By far the most significant of the two CDs, however, is Volume Two, which features the complete works for violin and piano by the Swiss composer Othmar Schoeck. Recorded for Swiss Radio in 1961, only 4 years after the composer's death, the three sonatas feature Schoeck's daughter Gisela as the accompanist in performances that The Strad magazine rightly called "so authoritative… that it is impossible to imagine them ever being superseded." All three sonatas – Op.16, Op.22 and Op.46 - are not part of the standard repertoire and are rarely performed these days, which is a real shame; the first two in particular, dating from the early 1900s, are strongly personal works reminiscent of Brahms and Franck. Again, the re-mastered sound is excellent.
If you know Bagdasarjanz's playing – and recordings of her have always been pretty scarce – then you won't need to be told to get these CDs; if you don't know her playing, get them anyway – you won't be disappointed!