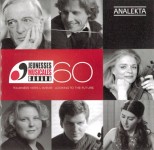 Jeunesses Musicales Canada 60
Various Artists
Analekta AN 2 9927-8

Since the founding of Jeunesses Musicales du Canada 60 years ago in 1949 by Gilles Lefebvre following a meeting with Father J.H. Lemieux, Anaïs Allard-Rousseau and Laurette Desruisseaux-Boisvert, the admirable organization has been supporting young artists embarking on their concert careers through concert tours, scholarships, competitions, and just plain good advice on the various options available to them. Many acclaimed Canadian artists have played the JMC circuit – no wonder then that this two CD compilation features a plethora of world class Canadian JMC talent extracted from a number of previous Analekta releases.

Space prevents me from naming everyone, so here are my gems. The set kicks off with a gut wrenching performance of a man's heart breaking by bass Joseph Rouleau (with the Royal Opera House, Covent Garden) in "Elle ne m'aime pas!" from Verdi's Don Carlos. Violinist James Ehnes is perfect in the Adagio from Bach's Sonata in G Major BMV 1021. Ensemble Caprice's take on Vivaldi's Concerto in C major RV 533 is surprisingly successful in its spirit. It is a joy to hear pianist Anton Kuerti as the accompanist to violinist Angèle Dubeau in Schubert's Sonata for violin and piano in D Major. The Gryphon Trio's rendition of Piazzolla's The Four Seasons of Buenos Aires meticulously captures the quality of the composer's own performances.

I only wish more contemporary music had been included (even though harpist Valerie Milot is excellent in Salzedo's Scintillation). Also, performance dates would have made the liner notes more complete.

This is a fine release to enjoy time and time again, and a fitting tribute to JMC's 60 years of work with Canada's finest musicians.