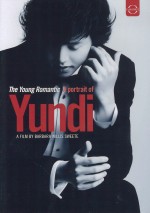 The Young Romantic - A Portrait of Yundi
Barbara Willis Sweete
EuroArts 3079058
Pianist Yundi (he has dropped the use of his last name Li!) is an almost mythical celebrity in China. Since winning the Chopin piano competition at the young age of 18, he has captured the hearts of the people of China, and has a busy international performing schedule, much to the credit of his highly emotional and theatrical performance style. So how then to portray him on film, without the finished product becoming an advertorial to the young pianist?
Director Barbara Willis Sweete's approach is brilliant – her premise seems to be to present him in a series of contrasting milieus: Yundi on tour in China versus Yundi in Berlin preparing for a recording/concert with the Berlin Philharmonic; The youthful serious soloist Yundi working with the senior witty Maestro Seiji Ozawa; Yundi as a child accordionist versus Yundi the young classical star; Yundi the classical pianist performing with Jay Chou, the pop star keyboardist; His family lovingly reminiscing about his childhood while also lamenting with justifiable sadness that he just doesn't visit them enough now. Only the segment with Yundi playing ping pong with TSO conductor Peter Oundjian seems idiosyncratic and out of place. Be prepared to be shocked as well – Yundi practiced up to eight hours a day as a child and some of the teaching methods employed are questionable too!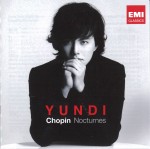 This is a beautiful flowing film that gives a well rounded portrait of the globetrotting pianist as a young man. The high Rhombus production standards are maintained – the visuals, storyline and editing are seamless. Bonus tracks of Chopin performances are an added treat. Fans and critics alike will enjoy, and also at times be disconcerted, by this superb Canadian made documentary.

Editor's Note: Yundi's latest CD release is the complete Chopin Nocturnes on EMI Classics (6 08391 2).