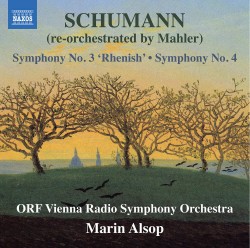 Schumann – Symphonies 3 & 4 (reorchestrated by Mahler)
Radio-Symphonieorchester Wien; Marin Alsop
Naxos 8.574430 (naxos.com/Search/KeywordSearchResults/?q=8.574430)
Leonard Bernstein's erstwhile student and disciple, Marin Alsop, has certainly taken a big step since I reviewed her in June 2018 with the Sao Paolo Symphony, to that holy shrine of classical music, the city of Beethoven, Mozart, Schubert, Bruckner and Mahler: Vienna. At present she is regarded, as The New York Times put it, not only "a formidable musician and a powerful communicator" but also "a conductor with a vision." Having appeared as guest conductor with the Vienna Radio Symphony in 2014, in 2019 she became the orchestra's first woman chief conductor. This new issue completes their cycle of Schumann's symphonies.
Although much maligned for their orchestration as being weak and uneven, typically by Wagner (but not by Brahms), the symphonies were reorchestrated by Mahler. Expanding to the size of a modern orchestra, increasing the strings, strengthening the winds and the brass, now, in stereo and digital splendour, they sound as never before.
Schumann having just moved from Leipzig to Dusseldorf for a well-paying job, the "Rhenish" Symphony No.3 in E-flat Major is an exclamation of sheer joy, greeting that city on the Rhine River. Alsop drives it beautifully and we can watch her on YouTube having a lot of fun with the great outburst of the Vienna brass at the finale of the exuberant, horn-dominated first movement. This optimism carries through in the lovely Scherzo (Landler) second movement and that resplendent fourth movement, inspired by the magnificent Cologne cathedral.
With the Fourth Symphony I cherish the memory of the legendary Georg Solti conducting it here in Massey Hall c.1964. It is the most innovative of Schumann's four. No doubt influenced by Liszt and Wagner it is composed as one single movement, the sections blending into each other with one theme cropping up like a leitmotif throughout. Alsop's tempo is perfect and with a slight accelerando, the cycle ends triumphantly on a high note.