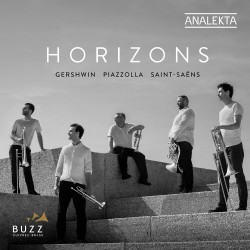 Horizons – Gershwin; Piazzolla; Saint-Saëns
Buzz Brass
Analekta AN 2 8929 (analekta.com/en)
World-renowned Canadian quintet Buzz Brass was formed in 2002. Here eight tracks of genre-spanning compositions are arranged for their brass instrumentation and occasional special guest musicians.
Buzz Brass' own arrangement of Khachaturian's Gayaneh: Sabre Dance showcases their tight clear ensemble work in performing the composer's famous steady groove beat, descending melody sliding glissandos and contrasting higher-pitched section. Guest arrangers of the remaining tracks complement their brass sound. François Vallières' arrangement of Saint-Saëns' Danse macabre has guest harpist Valérie Milot adding colourful plucks against brass legato themes and detached notes. His intricate arrangement of Gershwin's Cuban Overture, with guest pianist Philip Chiu, is a bouncy, uplifting and true to classic rendition. Arranger/friend Javier Sebastián Asencio provides a bras-only arrangement of Piazzolla's dance Milonga del ángel. The melodies and rhythm sounds generated by the bandoneon bellows air movement translate successfully to breathing into brass instruments especially in held notes and loud volumes. His Montréal Hora Cero five-piece medley adds vibraphone with unexpected vibe and horn slides, drums, and slower brass tunes with vibe backdrop. His Claude Bolling swinging brass Toot Suite: Allègre arrangement opens with trumpet solo in a mix of Baroque and jazz ideas like fast horn lines, ringing vibraphone tones, electric bass and short drum solo/accompaniments. Paul Dukas and Lew Pollack composition arrangements by Enrico O. Dastous and Steve Cooper respectively are enticing too.
So many clear brass sounds to listen to here as each Buzz Brass member is an awe-inspiring passionate musician alone and in ensemble.