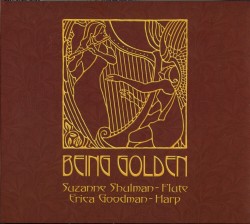 Being Golden
Suzanne Shulman; Erica Goodman
Wolftone (shulmangoodman.bandcamp.com/album/being-golden)
Leading Canadian musicians on their respective instruments, flutist Suzanne Shulman and harpist Erica Goodman first played together in 1972. They've since enjoyed illustrious careers, performing with several generations of musicians. To commemorate their abiding musical friendship they commissioned Canadian-Scottish composer Eric N. Robertson to write The Rings to serve as an eight-movement centrepiece of Being Golden, their latest joint flute and harp album.
Robertson's The Rings not only celebrates Shulman and Goodman's 50th anniversary, but also the golden wedding anniversary of Shulman and her husband Peter. Robertson's music features colourful arrangements of Scottish rhythms and dances such as reels and strathspeys arranged in a straightforward manner. Geometry of Love (Bells), the title of the final movement, takes an entirely different tack. The strikingly effective interpretation of change ringing (the practice of ringing a set of tuned bells in a sequence) is an outstanding track.
The balance of the record is devoted to French repertoire for the two instruments. Eloquently composed short works by "impressionist" composers Claude Debussy and Maurice Ravel follow the retro-sounding and peppy 20th-century works by neoclassicists Jacques Bondon and Jean Françaix.
Four pensive works by Ravel defiantly alter the album's mood, particularly the concluding Deux mélodies hébraïques. Shulman shines in a melismatic near-vocalise in Kaddisch, while the all-too-brief L'énigme éternelle questions the puzzle of existence with bi-tonal passages and a repetitive accompaniment. Is Ravel suggesting that pursuing the topic is futile? Whatever the answer, there's much to listen to, think about and enjoy here.