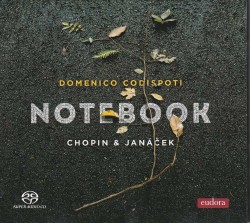 Notebook – Chopin & Janáček
Domenico Codispoti
Eudora Records EUD-SACD-2203 (eudorarecords.com)
As a teenager, when I was doing my best to convince myself that I liked to smoke clove cigarettes, wear vintage secondhand clothing and watch the "artsiest" of art films at the Revue, Fox or Carlton Cinemas, I remember liking Philip Kaufman's The Unbearable Lightness of Being with Daniel Day-Lewis and Juliette Binoche. Upon initial viewing, I subsequently rushed out to get my hands on Czech beer and a well-thumbed copy of the original Milan Kundera novel, released a few years before the film. And while much was memorable about that movie, I remember being particularly struck by how effectively the film used music (almost exclusively Leoš Janáček's On an Overgrown Path). Accordingly, it is nice to rediscover Janáček's haunting cycle of piano pieces, paired here with the 24 Preludes of Frederic Chopin, for a satisfying new release on Eudora records.
Although their lives almost overlapped briefly – Chopin died in 1849 while Janáček was born in 1854 – they did not. That said, the extraordinary compositions and musical talents of the more famous Polish composer and those of the Czech composer and theorist are united here in the capable hands of Italian pianist Dominico Codispoti. If, as the liner notes to this terrific new recording suggest, Codispoti views himself as a kind of earthly vessel through which the music and composer intentions flow while guided by Chopin's ghosts and demons, as well as, one supposes, Janáček's spirit leading him down a silent street in Moravia, 2022 auditors are encouraged to listen in on these two master composers presented in this most excellent translated form.