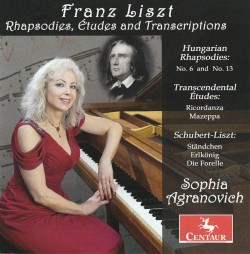 Franz Liszt – Rhapsodies, Etudes and Transcriptions
Sophia Agranovich
Centaur Records CRC 3955 (centaurrecords.com)
Now here is a disc I would listen to over and over again, never wanting it to end. An award-winning very talented Ukrainian-American pianist, Sophia Agranovich plays Liszt as it should be played, totally imbued in Romantic spirit and with "interpretation daring to be different" and "superior musicianship" (American Record Guide). Funny, I remember British critics around the 50s who poo-pooed Liszt, held him second rate and overtly emotional. They should eat their words when they hear this performance.
This is her tenth release and entirely devoted to Liszt showing the many sides of the composer's genius and all devilishly difficult pieces. Imagine a Budapest cafe with an ever present gypsy (Roma) band and the lead violinist coming to your table and playing his heart out for your wife or girlfriend. This is what we hear when Agranovich plays the slow middle section of Hungarian Rhapsody No.6. The style is unmistakeably Hungarian with the rubatos, hesitations, sudden eruptive accelerandos and syncopations and we even hear the tremolo of the cimbalom in the background. It's interesting that then she chooses the slow, quiet, melodic No.13, seldom performed but in her hands probably the most beautiful of all the Hungarian Rhapsodies
This is followed by three Schubert Transcriptions, (Ständchen, Erlkönig and Die Forelle); when I was listening to the famous Ständchen (Serenade) I was so transported that I felt like exclaiming "wow, this is soo beautiful!"
Agranovich's astounding technique is further evident in the dramatic and exciting Mazeppa of the Transcendental Etudes based on the story of a Ukrainian nobleman punished by being dragged by a wild horse across the steppes. We hear the lightning flashes of the whip and the syncopated galloping rhythm in this immensely difficult piece, which provides a fitting end to this unique, opulent and rewarding new issue.