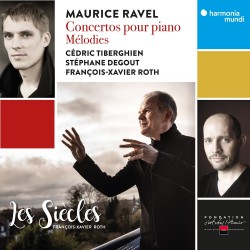 Maurice Ravel – Concertos pour piano; Mélodies
Cédric Tiberghien, Stéphane Degout, Les Siècles, François-Xavier Roth
Harmonia Mundi HMM902612 (store.harmoniamundi.com/release/305358)
This interesting new recording of Ravel's piano music has already earned Gramophone magazine's Recording of the Month. It includes Ravel's two piano concertos as well as that composer's rarely heard songs showing his all-encompassing genius. Not only a composer for orchestra, opera, ballets and the piano, he was also a brilliant orchestrator, pianist and even a songwriter par excellence.
The journey begins with the "marvellous" Piano Concerto in G Major (so described by Francis Poulenc, who actually played the orchestral part when the concerto was first performed on two pianos at a private salon), one of the first truly modern 20th-century concertos. Sparkling and buoyant with jazzy elements, it is superbly performed by pianist Cédric Tiberghien who is already having a brilliant career here and in Europe. The conductor is the very busy Francois-Xavier Roth, by now a very important musical figure in charge of two orchestras and guest conductor of several others. Noteworthy is the fact that the piano is an authentic Pleyel from 1892!
In the dark-hued Piano Concerto for the Left Hand in D Major, it's amazing how much bravura and complexity a single hand can accomplish. Its single movement begins in a mysterious atmosphere, moving from darkness into light (à la Liszt), with one incisive and versatile theme that develops with a strong rhythmic drive, literally exploding triumphantly at the end.
The two concertos serve as bookends for three song cycles, including one which I find as a curiosity, Deux mélodies hébraīques. The Kaddisch with its emotionally charged Hebrew text, but music entirely by Ravel, is a prayer of mourning usually heard in the synagogue; the other, in Yiddish, L'énigme éternelle, posits the question of existence (!), an enigma for which there is no answer, that finds beautiful expression in baritone Stéphane Degout's moving interpretation.