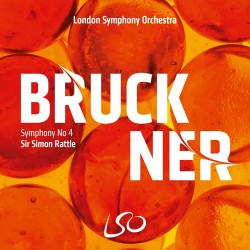 Bruckner – Symphony No.4
London Symphony Orchestra; Sir Simon Rattle
LSO Live LSO0875 (lso.co.uk)
I've seen Sir Simon Rattle conduct many times thanks to my subscription to the Berlin Philharmonic's Digital Concert Hall and always admired his energy jumping to the podium full of excitement, eager anticipation and love for the music to come. In 2018 Rattle retired from his post in Berlin and now is back in England as the head of the London Symphony, arguably the finest of the five London orchestras.
The "Romantic" Symphony No.4 is obviously his favorite Bruckner and as I listen to this new super audio recording I must confess that I'd love to have been present at the concert at the Barbican Hall resounding with the genuine bloom of his Bruckner. "The entire evening was a Brucknerian labour of love" says The Guardian.
Rattle has a no-nonsense approach as if he would say: let's get on with it! He is totally relaxed, lets the music flow naturally at a brisk tempo, entirely logical with the architectonic structure always kept in mind. There are sections when the music becomes nearly inaudible from which the melody slowly emerges. The following crescendo is masterfully handled. It builds in stages with minor climaxes along the way, deliberately holding back at key moments so the ending becomes truly majestic. There is an overarching epic sweep this symphony needs.
I must give a big credit to the first (solo) horn. At the beginning, its beautifully sustained pianissimo over an underlying tremolo in the strings produces a magical effect. The horns also feature heavily in the third movement, the Hunt Scherzo, as they start out barely audible from a primeval mist with a gradual crescendo; and when the trumpets join in the sound becomes crystal clear fortissimo and simply gorgeous. In Rattle's hand the symphony becomes truly Romantic!