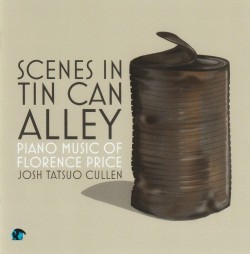 Scenes in Tin Can Alley – Piano Music of Florence Price
Josh Tatsuo Cullen
Blue Griffin BGR615 (bluegriffin.com)
American pianist Josh Tatsuo Cullen performs a respectful tribute to African-American composer Florence Price (1887-1953) in seven of her solo piano works. Price, educated at the New England Conservatory, combined European classical music with American traditions including ragtime and boogie woogie in her over 300 compositions for various instrumentations from symphonies to vocal music. Her music is currently enjoying a renaissance.
The three-movement Scenes in Tin Can Alley (1928) opens with the energetic ragtime-influenced The Huckster. Price wrote program notes for the following movement, Children at Play. Kids play to energetic sounds until a slower melodic classical/pop sound has them stop to stare at an old woman looking for food. After a short silence, she leaves and the kids play again, to fun and fast piano. Price's notes for Night include "the scene is sordid" with slow low-pitched, faster lines and swells featuring Cullen's beautifully articulated calming phrase endings. Cullen's amazing performance of the most virtuosic work here, Cotton Dance (Presto) (ca.1940s), is fast fast fast with boogie woogie sounds, chromatic lines/harmonies, high pitches and classical undertones making for fun dancing and listening. In the recently discovered five short Preludes (1926-1932) Price uniquely did not use descriptive titles. Many compositional techniques here, like No.3's Allegro molto's faster almost songlike quality to No.4's Wistful. Allegretto con tenerezzaI's slower classical sound featuring Cullen's conversational solo playing between hands.
Price's stylistically varied compositions are accessible listening, made all the more fantastic by Cullen's inspired and detailed piano interpretations.