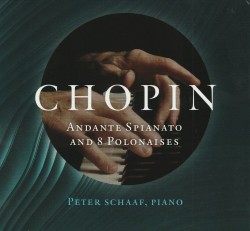 Chopin Polonaises
Peter Schaaf
Schaaf Records SC 104 (peterschaaf.com)
Let me introduce you to an exceptionally talented artist, Peter Schaaf. Not only he is having a brilliant career as a concert pianist and accompanist but he is also a remarkable portrait photographer with such clients as Seiji Ozawa, André Laplante, Janina Fialkowska and Peter Schickele.
Due to the COVID epidemic his photographic career came to a halt, so for the past two years he has focused on the piano, practising more than ever, learning new pieces and expanding his repertoire. During this time he created and issued four CD recordings: 1) Chopin Polonaises, 2) Chopin Waltzes 3) Albeniz Iberia and 4) a miscellaneous waltz album from a few different composers like Schubert, Brahms, Ravel and Dvořák. And imagine, the four albums are available on his website for free download! I wouldn't mind having any of them in my collection.
The Polonaise is a genuinely Polish, elegant dance especially suited to festive occasions. The couples line up one behind the other and move forward gracefully in a unique 3/4 time rhythm. It's beautiful to watch and is sometimes even included in symphonies, concertos and operas. Chopin wrote eight of them (and my fondest wish was to be able to play the "Heroic" A flat Major Op.53, which I fell in love with). Schaaf plays it with joy and panache and the middle ostinato is particularly menacing. The Andante Spianato is flowing gracefully in sustained piano and the following Grand Polonaise erupts in fortissimo as a magnificent contrast. This is highly accomplished, technically brilliant, enthusiastic piano playing and a recording to match.