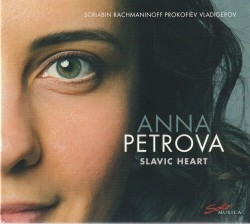 Slavic Heart
Anna Petrova
Solo Musica SM383 (anna-petrova.com)
Classical music is rarely political anymore, although extra-musical narratives can be unpacked from much of Western Art Music and be applied both for the purposes of historical contextualizing and in an effort to make sense of today's world. And while making sense of today's world may seem like a yeoman's task as of late, classical music listeners should not avoid listening to and reflecting on the music of the many great Russian composers of yesteryear whose gifts to the world were many indeed.
It would be a shame to make the legacy of such 20th century Russian composers as Sergei Rachmaninoff, Sergei Prokofiev and Alexander Scriabin yet another casualty in the ongoing and horrific war in Ukraine. Recorded prior to the Russian invasion of February 2022, Hungarian pianist Anna Petrova, a highly feted pianist and Doctor of Musical Arts who is on faculty at the University of Louisville, takes on the challenge of interpreting this fine music with aplomb on her Solo Musica release, Slavic Heart.
Capturing the music of the three aforementioned composers, along with the work of Bulgarian Pancho Vladigerov, this excellent new recording mines what must have been a creatively fertile geographic area and 50-year time period (1892 to 1942) to bring these haunting melodies back into focus. I can only imagine that solo pianists love (and perhaps dread?) the inherent challenges that the canon of these four composers presents. But with marvellous technique, a deft touch on the piano and an ability to coax new insights from these canonic pieces, Petrova makes it clear on Slavic Heart that she is up to the task.