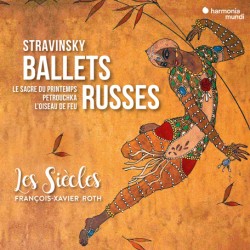 Stravinsky – Ballet Russes
Les Siècles; François-Xavier Roth
Harmonia Mundi HMX2905342.43 (store.harmoniamundi.com)
Perhaps you remember that Le Sacre du Printemps was used in the Disney film Fantasia and Stravinsky was invited to the studio for a private screening. He was offered a score as a courtesy but the maître politely declined, saying "I don't need it; the score is in my head." Oh, but it all changed, sir.... was the answer.(!)
Certainly nothing is changed here as the Le Sacre is played in its original form with instruments of the period by Les Siècles, a French orchestra formed by François-Xavier Roth. Do not be concerned about period instruments. Roth thoroughly researched the instruments of the period (around 1900) and his orchestra sounds every bit as good as a much larger modern orchestra.
Along with Le Sacre, the two other ballets were first presented in Paris between 1910 and 1913 as a celebration of Russian arts. A certain Russian impresario, Serge Diaghilev, was the mastermind and organizer, a "terrible, charming man who could make stones dance" as Debussy referred to him.
Paris at this time was a hothouse of invention in the arts and these ballets form a change, indeed a revolution, a turning point in the direction of music of the 20th century, Le Sacre especially. Inspired by rituals of pre-Christian, pagan Russia this is something the world had never heard before. It's brutal, elementary, forceful, violent and upsetting.
The other two ballets are a bit more conventional but equally exciting and very colourful. The Firebird is based on a Russian fairy tale and Petrouchka conjures up a noisy village marketplace with a puppet theatre with three characters and a very sad story. A brilliant new recording.