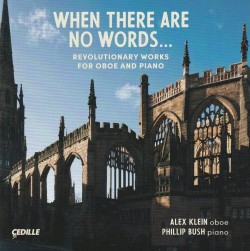 When There Are No Words – Revolutionary Works for Oboe and Piano
Alex Klein; Phillip Bush
Cedille CDR 90000 208 (cedillerecords.org)
Released in March 2022, When There Are No Words: Revolutionary Works for Oboe and Piano features the talents of world-renowned oboe virtuoso, Alex Klein, and pianist Phillip Bush. The album consists of six works paired into three sections reflecting the circumstances in which they were composed: reality of war, anti-war activism and exile.
The first section contains pieces written during World War II: the popular Sonata for Oboe and Piano by Paul Hindemith paired with the Pavel Haas Suite for Oboe and Piano which was written at the very beginning of the Nazi occupation. Haas was later sent to Auschwitz and did not survive.
The second section contains works with anti-war sentiments: Benjamin Britten's frequently played Temporal Variations which was written for a play about coal miners and their strikes in 1936; and William Bolcom's Aubade – for the Continuation of Life, written during the Cold War.
The third and final section features Three Etudes for Oboe with Piano Accompaniment by Brazilian composer José Siqueira and Suite for Oboe and Piano by Czech composer Klement Slavický, which were both written to protest their political exile.
Klein's thoughtful linking of these compositions sheds light on some lesser known but beautifully written works for oboe and piano. These works explore dissonant intervals, lyrical lines and a variety of tonal colours, allowing the listener to become immersed in the emotional expression of the composer's experiences. Klein is a complete master of the oboe, playing with his beautifully rounded, pure, yet complex tone which is mixed with the brilliant, warm and clear playing of Bush. The balance and tonal colours created between them are exquisite.