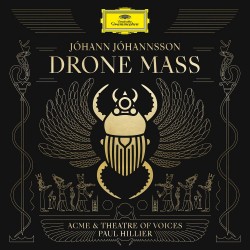 Jóhann Jóhannsson – Drone Mass
ACME; Theatre of Voices; Paul Hillier
Deutsche Grammophon (johannjohannsson.com)
Jóhann Gunnar Jóhannsson (1969-2018) was an Icelandic composer who wrote music for a wide array of media including theatre, dance, television and films. His music blends traditional instruments and orchestrations with contemporary and electronic components, resulting in a unique and characteristic soundscape.
At once meditative, mystifying and minimalistic, there are clear similarities between the Drone Mass and the music of 20th-century Eastern European spiritualists such as Pärt and Gorecki, but with notable deviations such as the integration of electronic techniques and the use of texts taken from the "Coptic Gospel of the Egyptians," part of the Nag Hammadi library discovered in 1945.
For those expecting a Catholic-based Mass in the style of Haydn, Mozart and Beethoven, the incorporation of a hymn described by Jóhannsson himself as "a seemingly meaningless series of vowels" will mark a radical deviation from the norm, and yet the characterization of this work as a "Mass" is nonetheless fitting, as there is an interconnectedness and weaving of meaning between movements which provide structure and form to Jóhannsson's large-scale work.
This world-premiere recording of the Drone Mass by the American Contemporary Music Ensemble, Theatre of Voices and conductor Paul Hillier is a revelatory look into the musical mind of Jóhannsson as represented in his art music, rather than his film scores, and is an extraordinary musical achievement. The demanding score is executed flawlessly and both singers and instrumentalists deserve commendation for their impeccable intonation.
Jóhannsson's Drone Mass is highly recommended, not only to those fond of Pärt, Gorecki and Tavener, but to all who enjoy contemporary music performed at the highest levels of excellence.