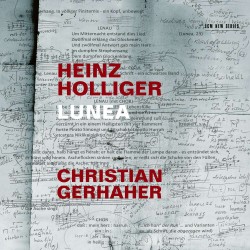 Heinz Holliger – Lunea
Christian Gerhaher; Juliane Banse; Ivan Ludlow; Sarah Maria Sun; Annette Schönmüller; Philharmonic Zürich; Basler Madrigalisten; Heinz Holliger
ECM New Series ECM 2622/23 (ecmrecords.com/shop)
Swiss virtuoso oboist, composer and conductor Heinz Holliger is among the most prominent oboists of his generation. Also a prominent modernist composer, his work includes the 1998 opera Schneewittchen. Fascinated by artists living on the edge, his music often interrogates their lives and the texts they left. His opera Lunea (2017) is no exception.
Unfolding in 23 scenes Lunea is built on as many aphoristic visions, based on the biography and work of the celebrated Biedermeier poet Nikolaus Lenau (1802-1850). Suffering a suspected midlife stroke and exhibiting unmistakable signs of mental illness, Lenau was confined to a mental institution for the rest of his life. Art imitating life, Lunea protagonists distort and rearrange words just as Lenau did after his stroke. The score employs a compositional procedure in which material is stated in reverse order, paralleling the narrative's shuttle back and forth in time.
Händl Klaus' spare libretto reflects the outlines of the poet's biography, retaining the flavour of Lenau's near-Dadaist statements such as, "Man is a sandpiper by the sea of eternity." Holliger's music reflects the poet's turmoil, despair and insights with surprising, effective sounds. For example, his skillful, prominent use of the cimbalom is perhaps a sly reference to Lenau's birthplace in the Kingdom of Hungary and early career in Budapest.
Reflecting the concentrated emotion characteristic of the Romantic period, Holliger's brilliant orchestration underscores the disjointed libretto with impressively expressive instrumental and vocal writing. Juliane Banse's achingly soaring soprano aria in Scene 12, and the violin solos sprinkled throughout, are memorable for their atonal yet emotional lyricism.