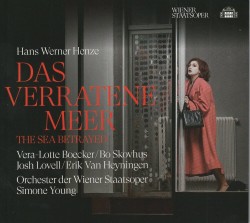 Hans Werner Henze – Das Verratene Meer
Vera Lotte Boecker; Bo Skovhus; Josh Lovell; Van Heyningen; Orchester der Wiener Staatsoper; Simone Young
Capriccio C5460 (naxosdirect.com/search/845221054605)
The work of prolific and influential German composer Hans Werner Henze (1926-2012) is extremely varied in style, showing influences of atonality, serialism, Arabic music, neoclassicism, jazz and more. He wrote over 30 operas and theatre scores throughout his long creative life, and they received numerous international performances. Henze was also well known for his Marxist politics; he produced compositions honouring Ho Chi Minh and Che Guevara. The latter's Hamburg premiere in 1968 sparked a riot and arrests.
Henze's 1990 Das verratene Meer (The Betrayed Sea), an opera in two parts and 14 scenes, is based on Yukio Mishima's 1963 novel The Sailor Who Fell from Grace with the Sea. The choice of Mishima, a Japanese fascist, by the committed leftist revolutionary Henze seems unexpected on the surface, yet there are parallels in their biographies: both were traumatized by World War II, both were openly gay and abhorred bourgeois life. Unlike Henze's overtly political theatre works however, Das verratene Meer is rather a menacing meditation on the sea, seasons, sex and jealousy. The straightforward plot follows a widow who falls in love with a sailor. Her jealous teenage son traps the sailor with the help of his gang, and they sadistically murder him.
This two-CD Capriccio set is based on Vienna State Opera's latest production of the work featuring brilliant dramatic coloratura soprano Vera-Lotte Boecker as the young widow Fusako. The strong Danish baritone Bo Skovhus portrays the sailor she falls for, while the convincingly young Canadian lyric tenor, Josh Lovell, is the widow's son.
Henze's musical evocation of Mishima's narrative is couched in an expressionistic Second Viennese School aesthetic. I distinctly felt the ghost of Alban Berg at several moments. Considerable angst is generated by ostinato instrumental textures and drama from the inclusion of unusual percussion instruments, including Japanese drums and clapper that hint at the world of the Japan characters.
The opera opens in the summer, the second section is set in the winter; a series of lush, sophisticated orchestral interludes evokes the seasons and the three primary characters' inner feelings. Simone Young masterfully conducts the complex score; the Vienna Staatsoper orchestra, augmented for the occasion to vast late-Romantic proportions, is undoubtedly yet another star in this satisfying production.