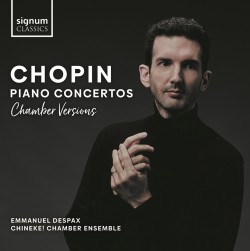 Chopin – Piano Concertos, Chamber Versions
Emmanuel Despax; Chineke! Chamber Ensemble
Signum SIGCD700 (emmanueldespax.com/recordings-1)
Even a hundred years ago there were no radios and TVs. The phonograph had just been invented and orchestral works and concertos could only be heard at a concert hall. In order to make it accessible to the common man these had to be arranged in chamber versions or piano transcriptions to be performed at private salons or soirees where Chopin himself was often invited to play the piano part.
Following this train of thought, a brilliant young French pianist, Emmanuel Despax, already well known in Europe and according to Gramophone magazine, "A formidable talent, fleet of finger, elegant of phrase and a true keyboard colourist," decided to do just that: he collected five string players (the Cheneke! Chamber Ensemble) to perform Chopin's two piano concertos with the orchestra reduced to a string quintet, so what we have here is effectively a piano sextet.
Chopin's orchestration has been much criticized over the last centuries. Berlioz thought it rigid and superfluous, but since the piano plays almost continuously, this version with smaller forces is quite enjoyable. One nevertheless misses the power and instrumental colour of the orchestra, especially at one thrilling moment in the second movement of the Second Concerto when suddenly the mood changes. There is hushed intensity, everything quiets down into a pianissimo string tremolo with a heartbeat-like timpani and the piano enters with a dramatic melody that hasn't been heard before. I also miss the clarion call on the horn near the end, when the prevailing F Minor key suddenly changes to major as if the radiant sun suddenly comes out and turns everything bright and beautiful.