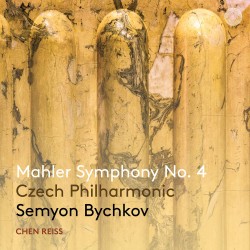 Mahler – Symphony No.4
Chen Reiss; Czech Philharmonic; Semyon Bychkov
PentaTone PTC5186972 (naxosdirect.com/search/ptc5186972)
Four decades have passed since the Czech Philharmonic completed their first edition of the complete Mahler symphonies under Václav Neumann in 1982. Mahler was born in Bohemia and raised in Moravia (born in 1860 during the Hapsburg era, he considered himself an Austrian and spoke mainly German) so this first instalment of a new cycle can be considered a festive homecoming for a favourite son. Mahler's Fourth Symphony is relatively compact in comparison to its gargantuan predecessors in the so-called "Wunderhorn" cycle of symphonies inspired by the 19th-century collection of folk-song texts known as The Youth's Magic Horn, portions of which Mahler had previously set to music. Despite this economy of means, the symphony's mischievous antics, ironic stance and complex structure confounded the critics of his time. Today it is regarded as one of his most accessible works.
Mahler himself once observed, "The real art of conducting consists in transitions." Mahler's own constantly shape-shifting music teems with kaleidoscopic tempo fluctuations which not every conductor can interpret convincingly. Bychkov's mastery in this regard marks him as a genuine Mahlerian. The finale of the symphony features Israeli soprano Chen Reiss in an ingenuous rendition of the song Das himmlische Leben from which this work was spawned.
The distinctive sound of the Czech Philharmonic is gorgeously captured in this Pentatone production; the strings are lustrous, the winds and brass incisive and the dynamic range is vast. Recorded in August 2020 from the confines of a shuttered Dvořák Hall in Prague, this is a very auspicious start to what promises to be an exceptional Mahler cycle.