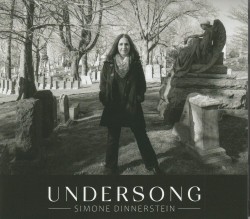 Undersong
Simone Dinnerstein
Orange Mountain Music OMM 0156 (orangemountainmusic.com)
A lyrical rubato-laden, eminently shapely Les Barricades Mystérieuses by Couperin opens Simone Dinnerstein's solo piano recital Undersong, brilliantly captured in the warmth of this recording by Orange Mountain Music. But arch-Romantic Robert Schumann's Arabesque, Op.18, with its rippling arpeggios and translucent glissandi that follows will likely take your breath away.
The pianism is impressively nuanced throughout the program. Dinnerstein displays her strong rhythmic backbone with the bubbling lilt of Philip Glass' Mad Rush but it is, to my mind, at any rate, Schumann's Kreisleriana Op.16 that is the apogee of this recording. Rarely has the restless romance of this work been captured with greater imagination. Its heavenly, mercurial luminescence is tempered by the pianist's intellectual rigour through its eight dazzling vignettes.
Dinnerstein has long been one of the most articulate pianists in the world, remaining technically sound and musically eloquent no matter what the repertoire. Her Satie and Glass is a case in point. On the latter's Mad Rush she tames the composer's abrupt changes in tempo and performs the piece with a strong sense of dance braving its knuckle-busting challenges with a kick in her step.
Her interpretation of Satie's Gnossienne No.3 is eloquent and direct, quite without impediment or undue idiosyncrasy, yet musical to the core. Meanwhile, she approaches Couperin and Schumann with uncommon refinement of colour and texture. All of this makes for a disc to die for.