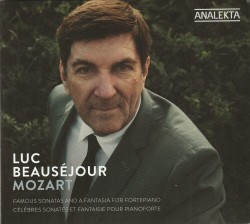 Mozart – Famous Sonatas and Fantasia for Fortepiano
Luc Beauséjour
Analekta AN 2 8931 (analekta.com/en)
Chasing mastery in classical music performance is, undoubtedly, a lifelong endeavour. Once you add in the level of required specificity of technique, musical gesture, understanding of repertoire and the historically mediated instrumental touch demanded by an adherence to period piece performance, you end up with an important, but small collection of musicians whose dedication as both curators and custodians of the music of the past, as well individuals who contribute to a slowly, but ever growing, corpus of interpretations, variations and understandings of these canonical works, are worthy of praise, support and attention.
Quebec's Luc Beauséjour, who both administratively as the artistic director of the ensemble Clavecin en Concert, and performatively, as evidenced by his most recent Analekta release of Mozart's Sonatas and Fantasia for Fortepiano, numbers among this committed group. His efforts to demonstrate the continued meaningfulness and relevance of the harpsichord, organ, and here, the Italian fortepiano – Mozart's favourite – we learn in François Filiatrault's informative liner notes, are showcased in this soulful and terrific release.
Beautifully captured in Mirabel, Quebec's Saint Augustine Church, this recording is bound to be appreciated in equal parts for Beauséjour's supreme talent, the haunting clarity of this instrument – invented in the early 18th century but effervescent and alive in Beauséjour's 2022 handling of Mozart's frozen improvisations – as well as the beautiful recorded ambiance of a simple neighbourhood cathedral that acts as an additional performer and contributes mightily to the success of this disc.