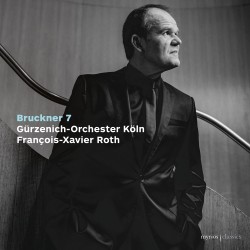 Bruckner 7
Gürzenich-Orchester Köln; François-Xavier Roth
Myrios MYR030 (myriosmusic.com)
There is a cataclysmic moment in the second movement of Bruckner's Seventh: There are two climaxes following one another, but the second one comes fortissimo with an Earth-shattering cymbal crash, as if the heavens would open up. The whole concert hall was filled with glorious sound. I remember the great Skrowaczewski doing it beautifully many years ago at Massey Hall with its fabulous acoustics. This is how my conversion to Bruckner started.
The Seventh still remains one of my favourite symphonies. This new recording is conducted by a new firebrand, François Xavier Roth who is making big waves in Europe today. He is a scholarly conductor with a no-nonsense, analytical approach, meticulous attention to detail and a natural gift to enter the composer's mind to follow the compositional process and to choose the right tempo.
Out of a near silent tremolo the symphony begins with a wondrous melody in the strings picked up by the woodwinds, an overarching theme that seems to dominate the first movement. It goes through many variations, but the solo flute crops up often chirping like the little forest bird leading Siegfried to awaken the sleeping Brunnhilde. (Wagner was much admired by Bruckner!)
After a crucial Adagio second movement comes an exciting Scherzo, with a simple theme and an underlying rigorous ostinato having a rhythmic urge that has always reminded me of cavalry galloping through a wide open plain. The Finale sums it all up with a resounding peroration of the majestic brass. This recording has huge dynamic contrasts that will test your stereo equipment.