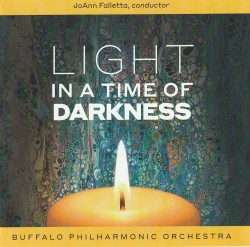 Light in a Time of Darkness
Buffalo Philharmonic Orchestra; JoAnn Falletta
Beau Fleuve Records 605996-998579 (bpo.org)
When the COVID-19 pandemic emerged in early 2020, arts organizations throughout the world demonstrated their extraordinary determination and resilience as they found ways to continue practising their craft and bringing music to their audiences, even if in a different format than before. Light in a Time of Darkness features works recorded live in Buffalo in 2020 and 2021 as part of the BPO OnDemand series, streamed to audiences during the height of the pandemic.
This disc is a journey through countries, eras and styles, as its contents encompass everything from Bach to the premiere of a new work by composer Ulysses Kay. There is a risk, in this time of hyper-specialization, that such a broad approach might result in everything sounding too similar, with not enough period-appropriate precision to pacify everyone. For those who prefer the lean, agile, period-instrument approach, for example, the Bach and Haydn selections will likely come across as rather big and bulky, lacking the finesse afforded by earlier instruments.
Where Light In A Time Of Darkness is most convincing is in the lush, broad textures afforded by Vaughan Williams' Fantasia on a Theme by Thomas Tallis and the Kay Pietà, a work of richness and depth that features some beautiful moments for the strings and a striking solo for English horn.
A testament to the resiliency and innovativeness found in so many organizations over the past two years, Light in a Time of Darkness is an eclectic and worthwhile release demonstrating the excellence of the Buffalo Philharmonic and conductor JoAnn Falletta.