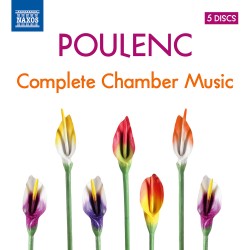 Poulenc – Complete Chamber Music
Various Artists
Naxos 8.505258 (naxosdirect.com/search/8505258)
Having recently received a treasure, in the form of digital sound files, I am compelled to offer the following advice: buy this collection. An epochal recording, The Complete Chamber Works of Francis Poulenc is performed by a cadre of young and insanely able French musicians; nowhere else will you ever need to turn for inspiration or solace, nor for useful historic information about Poulenc, his thoughts and the context of the pieces.
The performances, grouped onto the discs in no immediately discernible order, remind us of how often Poulenc would reuse similar tropes, thrown into relief against such remarkable harmonic language. The three solo woodwind sonatas sound strangely similar, as sibling pieces perhaps, yet still strike their individual poses and stand distinct.
Disc one opens with an old friend, the Sextuor for Piano and Woodwind Quintet. Nothing wrong with leading from strength, and this is such a strong performance by all. Absolutely fearless in their tempo choices, as technically clean as French wind players are known to be, these six bring the notes leaping off the page. Poulenc, in his secular heaven, must be pleased to know he still speaks to and through young guns like these. The eloquence of phrasing in this one piece alone is reason enough to acquire the collection. But wait! There's more.
Of course there's more! Included are the early works, when Poulenc was 19 or 20 years old, at the end of WWI. Having tried to tackle two of these (Duo for Two Clarinets, and Duo for Clarinet and Bassoon) when I was a similar age, I now forgive the youngster his early austerity. You hear evidence of his admiration for Stravinsky more than his love of the music hall. He seemed to celebrate jagged lines and impossibly long phrases. But at least he published these! He discarded two earlier versions of his violin sonata before allowing the one played here by Graf Mourja.
It's pointless to select a favourite piece or performer; there is beyond enough to please every ear. The flute playing of Philippe Bernold is bright and crisp, and I forgive his tendency to reach just above the piano pitch. He also performs on recorder in the charming Villanelle. Hervé Joulain makes short work of the devilishly tough French horn writing in the Sextuor. All of the wind playing is exceptionally good.
The project owes much to consistently excellent piano playing by Alexandre Tharaud, who performs on no fewer than 15 of the selections, if my count is correct. That's just beyond imagining. In fact there are only six pieces scattered across the five discs that do not feature Tharaud. These are the song cycles and theatre pieces that use voice accompanied by small instrumental ensembles. Among these is the charming Story of Babar, offered in both the original French and the translated English text. Both narrators are children, (12-year-old François Mouzaya, and 13-year-old Natasha Emerson), who seem equally professional.
For choral fans, there is disc four. Poulenc's poetry settings themselves are every bit as divergent as the switches in mood I find so beguiling. La Balle Masqué, Cantate Profane sur les poèmes de Max Jacob, makes merry Dadaist hay. Baritone Franck Leguérinel clearly propels the absurdist texts with a powerful controlled voice. He shares the disc with tenor Jean Delescluse.
Oh, one needn't carp, but the recording values are uneven. One wonders with the size of the project how many different venues were used, and how many different engineers and producers worked on it.