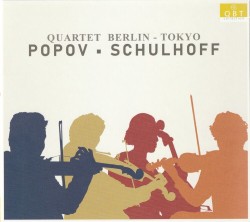 Popov – Schulhoff
Quartet Berlin-Tokyo
QBT Collection QBT 001 (quartetberlintokyo.com)
Prokofiev, Shostakovich, Khachaturian – in 1948, the USSR's three leading composers were denounced as "formalists" by the Communist Party's Central Committee, removed from official positions, many of their works banned. Now almost forgotten is that along with unspecified "others," three less-celebrated composers were also named in the condemnation – Nikolai Myaskovsky, Vissarion Shebalin and Gavriil Popov. In the following years, the fearful composers tended to employ the folk-flavoured, patriotic or "optimistic" styles demanded by the authorities.
Popov's whopping, 57-minute String Quartet in C Minor, Op.61, subtitled "Quartet-Symphony," premiered in 1951 and here receives its first recording. There's no evident folk music but, following the Party line, it's unremittingly cheerful. In the first movement, lasting nearly 25 minutes, muscular buoyancy frames extended sweet violin melodies bordering on sentimentality. The six-minute scherzo, propelled by cello pizzicati, dances lightheartedly. A dreamy violin solo over slow pulsations begins the 15-minute Adagio cantabile colla dolcezza poetico. As the other instruments join in, the music becomes more animated and festive, then subsides with an eloquent cello melody. The 11-minute Allegro giocoso opens with graceful pizzicati before repetitions of the five notes of "bin-de-en wie-der" from the Ode to Joy slowly build to the quartet's own joyful conclusion.
Included on this CD is Erwin Schulhoff's tuneful, heavily rhythmic, 14-minute Five Pieces for String Quartet (1923). Each of these playful, satiric miniatures would make a superb concert encore piece. Superb, too, is the playing of the multi-award-winning Quartet Berlin-Tokyo. Bravi!