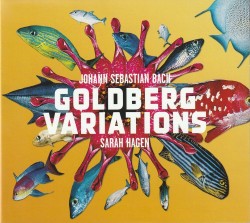 Bach – Goldberg Variations
Sarah Hagen
Independent SH004CD (sarahhagen.com)
Great expectation always precedes a new recording of Bach's Goldberg Variations. Glenn Gould's benchmark recordings (1955 and 1981) may have thrown down the gauntlet to anyone recording this epic composition after him, but it was Bach who left the door of interpretation slyly ajar. Yet, playing these wonderfully varied and emotionally differentiated Goldberg Variations is one of the most daunting experiences a pianist could face.
The chords of the "Fundamental Bass" are the first hurdle because the inspiration for the entire piece originates in the accumulation and release of tension by the harmonies of these chords. In composing the Goldberg Variations Bach was also probably thumbing his nose at Johann Adolph Scheibe who once criticized his compositions as being fraught with "a turgid and confused style." Bach's playful rebuttal came by way of the complexity of many voices collaborating to form the lofty harmonic beauty of the Goldbergs.
Canadian pianist Sarah Hagen's Goldberg Variations are dramatically different. Naysayers and refusniks beware: her approach combines unfettered joy, wide awake with wonder, requisite pedagogy and the ability to make the instrument bend to her will. The epic scope of the work is stated right out of the gate, with an extensive exploration of the Aria that opens the way to the variable tempi, harmonic adventure with unlimited changes in registration and emotion. Hagen's performance combines vivid precision of touch with perfect articulation of line, making her Goldberg Variations something to absolutely die for.