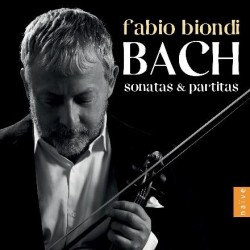 Bach – Sonatas & Partitas
Fabio Biondi
naïve (highresaudio.com/en/album/view/xhdnab/fabio-biondi-bach-sonatas-partitas)
These timeless works receive a superb and fanciful recorded performance from one of the most interesting and adventurous violinists alive today.
The Six Sonatas and Partitas were written sometime between 1717 and 1723, while Bach was employed by Prince Leopold of Anhalt-Cöthen. The sonatas are each made up of four substantial movements, including brilliant and virtuosic fugues. The partitas are jammed with a variety of dance movements and "doubles," the D Minor Partita concluding with the justly renowned extended Chaconne.
The brilliant Fabio Biondi is a celebrated violinist, conductor and the founder of Europa Galante who has made a specialty of Baroque works large and small, including recital tours with pianists, harpsichordists and fortepianists. That said, he plays on a fortified modern violin with technical prowess, confidence and a big personality that would not be mistaken for being historically informed. He made this recording a special project as he turned 60, saying in the notes that he has long felt intimidated by these towering works "so intimate, yet so universal, so close to the essence of things and so technically demanding as well."
These performances are fresh, assured, lyrical, exciting and full of vitality. Highlights include the Presto of Sonata I, the Giga and Chaconne of Partita II, the three enormous fugues, the heartbreakingly nostalgic F Major Largo of Sonata III and the Gavotte en Rondeau of Partita III. Some of the tempi are a little too breakneck, some of the ornamentation is outrageous and at times the overall sound gets a little too heavy and intense. But this is playing with a self-assured point of view, a big heart, a rock-solid technique and a humble wisdom, full of respect for how these pieces connect to the human soul. Highly recommended.