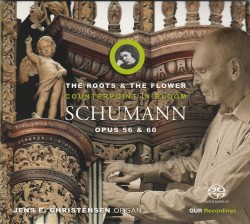 Schumann – The Roots & The Flower: Counterpoint in Bloom
Jens E. Christensen
Our Recordings 6.220675 (naxosdirect.com/search/6220675)
A prolific and highly respected composer of the Romantic era, Robert Schumann wrote in a variety of styles for a range of instruments, from solo piano to large orchestra. Tucked within Schumann's 148 opus numbers are a few works written for the pedal piano which, rather than having the standard three foot pedals, contained an entirely separate keyboard, similar to that found on pipe organs, which was manipulated by the feet. Once a relatively common household instrument, the pedal piano has since become extinct, though separate foot pedal attachments and even complete replicas can still be found.
The presence of a pedalboard is a unique similarity between the pedal piano and the modern organ which has led to a number of works for the former instrument being adapted to the latter. Schumann's pedal piano works are of particular note in this regard – their contrapuntal dexterity and complexity are conveyed particularly well on the organ, as demonstrated by renowned Danish organist Jens E. Christensen.
Performing Schumann's Six Fugues on B-A-C-H, Op.60 and the Six Canonic Studies, Op.56, Christensen shows Schumann at his most cerebral, writing that is rigid in its structure yet fluid in its harmonic style. Indeed, the choice of the famous B-flat - A - C - B natural motif (B-A-C-H in German note names) is a not-too-subtle homage to Schumann's idol. His choice to use this theme as the source of six independent fugues is a demonstration of Schumann's devotion to his craft, a flexing of musical muscles that demonstrate his ability to exist within a defined structure while simultaneously expanding and manipulating these structures to their limits.
One of the great challenges with performing this music on the organ is the registration, or stops and pipes, that the organist must choose to best convey the composer's intentions. Christensen is heard here on the organ in Copenhagen's Von Frelser Church, an instrument that is historical both in age and temperament, best suited to the works of Bach and earlier composers. Despite the apparent temporal discrepancy, this sound is exceedingly effective: while Christensen may occasionally incorporate one too many Baroque phrasings into his interpretations, the combination gives Schumann's chromatic material the backwards-looking realization it requires, reinforcing the direct references to Bach and his own contrapuntal genius.