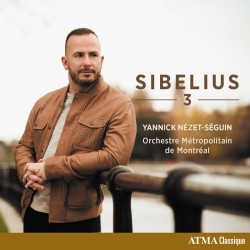 Sibelius – Symphony No.3
Orchestre Métropolitain de Montréal; Yannick Nézet-Séguin
ATMA ACD2 4033 (atmaclassique.com/en)
After gaining world fame and plaudits too numerous to mention, Yannick Nézet Séguin is back in Canada with his first orchestra, the Orchestre Métropolitain de Montréal and, with ATMA Classique, is in the process of recording the seven symphonies of Jean Sibelius. This new release is part of this ambitious series.
The seven symphonies of Sibelius are certainly music the world had never heard before; music of the North, inspired by Finnish myths and sagas and a landscape with elemental forces of nature. Interestingly, there is a stylistic evolution from the first to the seventh symphony. Despite their wildly different characteristics, all progress towards the same purpose, a condensation, a telescoping of elements that comes into full fruition in the Seventh Symphony where all four movements fuse into a single one.
Nearly the shortest of the seven and in the key of C Major, the Third has almost a Mozartian clarity with transparent textures and straightforward momentum. Mysteriously however, somewhere in the first movement suddenly everything quiets down with a perpetual, nearly inaudible rustle of strings as if we would disappear into a misty thicket with only an occasional shriek of a bird (on the clarinet) breaking the silence.
A combination of the third and fourth movements, the Finale is magnificent: as the rhythmically pulsating, suspenseful Scherzo gradually dies down, a new march-like theme emerges almost imperceptibly; pianissimo on the cellos and gaining momentum, and before we know it we are in the midst of the Finale. Soon, all the strings and the woodwinds join in louder and louder. Finally the clarinets, flutes and horns raise their instruments high and the trumpets and trombones bring everything to a final glory. Nézet-Séguin manages this giant crescendo masterfully.