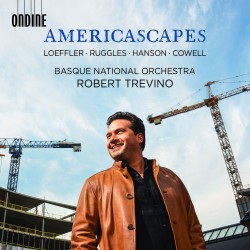 Americascapes
Basque National Orchestra; Robert Trevino
Ondine ODE 1396-2 (naxosdirect.com/search/ode+1396-2+)
Alsace-born Charles Martin Loeffler (1861-1935) moved to the U.S. in 1881. His 25-minute "Poème dramatique," La Mort de Tintagiles, Op.6 (1897), based on a play for marionettes by Maurice Maeterlinck about a murderous queen, is definitely "dramatique." Between its stormy opening and mournful close, Loeffler's lushly scored, ravishing music conjures a scenario of sensuous longing and dangerous conflict, with long-lined, arching melodies and vibrant orchestral colours redolent of French late-Romanticism-Impressionism. I loved it; why isn't it better known?
Carl Ruggles (1876-1971) depicted his wife and three friends, including Charles Ives, in his four-movement, ten-minute Evocations (1943), orchestrated from earlier piano pieces. Hardly affectionate music, it's austere and perturbed. To me, Ruggles' very name embodies what I hear in all his music, including Evocations – rugged struggles.
The cinematically rhapsodic Before the Dawn, Op.17 (1920), anticipates the many beauties that would be heard in the symphonies of Howard Hanson (1896-1981), his first appearing just two years later. The brief (under seven minutes) tone poem here receives its long overdue, first-ever recording.
Henry Cowell (1897-1965) spent the winter of 1956-1957 in Iran, part of a tour jointly subsidized by agencies of the U.S. and Iranian governments. Three works resulted: Persian Set, Homage to Iran and the 19-minute Variations for Orchestra (1956) recorded here. It's filled with exotic sonorities hinting at arcane magic and nocturnal mysteries.
Thanks to conductor Robert Trevino and the Basque National Orchestra for these revelatory performances of four almost-forgotten American works.