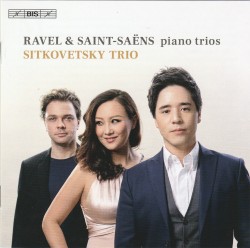 Ravel & Saint-Saëns – Piano Trios
Sitkovetsky Trio
Bis BIS-2219 SACD (bis.se)
The subtle colours and evanescent textures of Ravel's piano music are often compared to those of his older contemporary Debussy, but, in fact, Ravel got there first. Like in Jeux d'eau from 1902, his Piano Trio in A Minor (1914) which features rippling liquid arpeggiated figurations derived from Liszt, is imbued with a singular new delicacy. The four wistful movements of the trio seek to convey an increasingly wide range of vivid sensations, aural and visual to create what is, in effect, a miniature tone poem.
In one of their best recordings, the Sitkovetsky Trio interpret this piece with idiosyncratic brilliance. The variety of touch and the extraordinary control of dynamics that violinist Alexander Sitkovetsky, cellist Isang Enders and pianist Wu Qian bring to this performance balance limpid tonal clarity and questing energy.
The other work on this scintillating album is Camille Saint-Saëns' Piano Trio No.2 in E Minor Op.92. A child prodigy with Mozartian potential, the composer remarked that he lived in music "like a fish in water." That is eminently clear from this Piano Trio, which, like his concertos, is pleasant on the ear but murder on the fingers. Like their Ravel, the Sitkovetsky Trio's Saint-Saëns sounds startlingly fresh. Qian's enthusiastic pianism displays great technical assurance and a sense of tremendous forward momentum. Sitkovetsky's and Enders' playing is sinewy and dramatic. Together the trio also give this work a spirited reading.