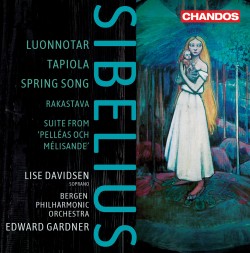 Sibelius – Luonnotar; Tapiola; Spring Song
Lise Davidsen; Bergen Philharmonic Orchestra; Edward Gardner
Chandos CHSA 5217 (naxosdirect.com/search/chsa5217)
Jean Sibelius – together with Grieg and Dvořák – was largely responsible for the late-19th-century upsurge of musical nationalism. Sibelius' greatest achievements were to reassert the Finnish ethos as something distinct from both Russia and Sweden – something that made him a cultural figurehead in Finland. This could be attributed to his splendid compositional technique, and a special skill that enabled him to unite the heroic imagery of the Finnish epic Kalevela and the sounds that characterized Scandinavia with the influences of the greater European tradition.
Though Sibelius' output is dominated by his seven symphonies, by the time he had written the first of these he had already honed his craft with a series of orchestral pieces on national themes written during the 1890s. This album includes two of these: Rakastava (The Lover) Op.14 and the tone poem Vårsång (Spring Song) Op.16. It also includes two other tone poems, Luonnotar Op, 70 and, arguably Sibelius' greatest tone poem – Tapiola Op.112, Finlandia notwithstanding.
The Bergen Philharmonic and Edward Gardner's account of these works has a truly magisterial authority; Gardner's control of the imagery of the works – in fine gradations of mood and colour – is utterly convincing. Lise Davidsen's luminous soprano is heard on Luonnotar and the album's longest work Pelléas och Mélisande – incidental music for Maurice Maeterlinck's play. Orchestra and soprano have rarely sounded so beautiful and profoundly absorbed as in these stellar works. An album to die for.