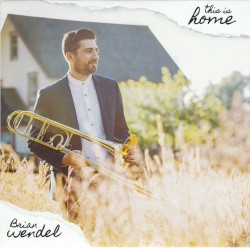 this is home
Brian Wendel
Independent (brianwendelmusic.com)
For Brian Wendel, principal trombonist of the Vancouver Symphony and a faculty member at the University of British Columbia, the concept of "home" is as much spatial and geographic (now residing on Canada's West Coast after having grown up in Massachusetts and having lived in New York City as a Juilliard student) as it is metaphoric (identifying repertoire so familiar and comfortable to be thought of as a musical home in which one is capable of expression, creativity and a mature statement of identity). For Wendel, This is Home, is just that; a thoughtful collection of music that includes J.S. Bach, Prokofiev, Enrique Crespo's Improvisation and Scriabin.
United not by era, theme or even tunefulness, the pieces chosen instead put forth a compelling statement of where Wendel draws inspiration and gives voice. Often presented in duo format with pianist Carter Johnson, Wendel also plays solo on the Bach and Crespo selections, a format that I do not associate with "classical" music (instead, the albums by George Lewis and Albert Mangelsdorff come to mind here), but would be intrigued to hear more of from this extremely capable and fine musician.
Although a thorny and difficult instrument, in the right hands (such as Wendel's) the trombone ranks among the most expressive instruments in music, underscoring and highlighting sublime passages of music heard many times before (such as Bach's Cello Suites) while giving a unique voice and perspective to both the new and the less familiar.