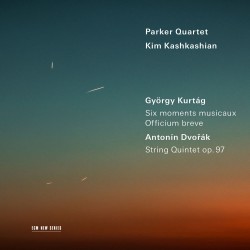 Kurtág – Six moments musicaux; Officium breve; Dvořák – String Quintet No.3
Parker Quartet; Kim Kashkashian
ECM New Series 2649 (ecmrecords.com/shop)
In a program of contrasts, the musically sensitive Boston-based Parker Quartet plays the music of György Kurtág with virtuoso panache, and are joined by their mentor, violist Kim Kashkashian, in an Antonín Dvořák work in their ECM New Series debut. Czech composer Dvořák's easygoing late American period String Quintet No.3 is bookended by two of Kurtág's tightly wound quartets. The latter's Six moments musicaux (2005) and the Officium breve in memoriam Andreae Szervánszky (1988/89) glitter jewel-like in their neo-expressionistic refinement.
Composed in three days in Spillville, Iowa in 1893, Dvořák's lyrical work differs from his other quintets in his use of two violas and also in its formal straightforwardness: there's little development of thematic material and extensive repetition. The Parker Quartet's feeling for instrumental colour, texture and attention to detailed ensemble work is evident from the first measure.
The same can be said about the quartet's performance insights into Kurtág's scores, developed through extensive work with the senior Hungarian composer. I was particularly moved by the Parker's riveting rendering of Kurtág's brilliantly intense 15-section Officium Breve in Memoriam… Even as they mirror the concision of each miniature movement, paradoxically the music becomes even more static, timeless – and elegiac.
A perceptive reviewer once wrote that his music was "like opening a trapdoor in your floor and dropping for a moment into the infinity of the cosmos." Kurtág's notes often seem unmoored from conventional function, freed to resonate in a much larger musical and emotional space.