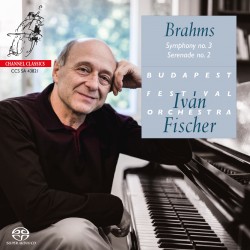 Brahms – Symphony No.3; Serenade No.2
Budapest Festival Orchestra; Ivan Fischer
Channel Classics CCS SA 43821 (channelclassics.com/catalogue/43821)
"There is no more magnificent opening of a symphony than the first 38 bars of Brahms Third" says Ivan Fischer, and obviously he is very partial to the work. Fischer is known to pursue unjustly neglected works and restore them to mainstream repertoire. Brahms Third Symphony is certainly the dark horse, the least performed of his four. Granted, it is different from the others: it's the shortest, terse, vivid, passionate and intensely alive. It begins with a great heroic theme in an optimistic F Major fortissimo that dominates the work, but it's also capable of becoming soft and tender as at the end of the first movement and the very end of the symphony.
The nickname heroic fits only the outer movements. The second is quiet and peaceful and simply glows with one beautiful melody after another. It comes to a gorgeous climax and then a hushed magical moment of dialogue between various woodwinds and the lower strings echoing one another. The third movement should be a scherzo, but it isn't. It has a "beautiful, caressing theme, loving and slightly melancholic, but all in a mildly rocking rhythm" (Clemens Romijn). It is in 3/4 time and so catchy that it became a pop song. The last movement is intense, dramatic like a battle, heroic, but the main theme returns in a quiet, peaceful manner that ends the symphony gently.
Brahms wrote the two Serenades before he composed symphonies and I first heard them by the late, great Brahmsian István Kertséz and fell in love with them instantly. The graceful Serenade No.2 provides a nice contrast to the heroic Third Symphony, performed here in a thoroughly delightful manner by the wonderful musicians of the Budapest Festival Orchestra, the pride of Hungary and one of the top ten of the world.