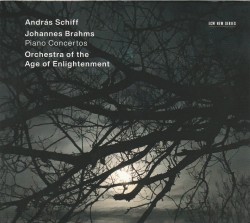 Johannes Brahms – Piano Concertos
Andras Schiff; Orchestra of the Age of Enlightenment
ECM New Series 2690/91 (ecmrecords.com/shop)
Perhaps like many classical music listeners and lovers, I mainly (and perhaps limitingly) associate the Hungarian-born pianist Sir András Schiff with J.S. Bach, whose music Schiff plays beautifully, frequently and with an insight and mastery that few have equalled. Accordingly, it was a pleasure for me to dig into Schiff's recent double-disc recording of the reimagined piano concertos of Johannes Brahms, accompanied capably by the Orchestra of the Age of Enlightenment.
Captured following a string of highly acclaimed European concerts in the spring of 2019, the resulting recording is magical. Doing double duty as pianist and conductor, Schiff leads this unique United Kingdom-based period-piece orchestra through some of the most musical and challenging pieces in the Western art music canon (Concerto for Piano and Orchestra No.1 in D Minor, Op.15 and No.2 in B-flat Major, Op.83), mining the depths of Romantic-era dynamics and expressivity for which Brahms is revered. Further, the recording, captured at London's Abbey Road studios, contains all of the fidelity hallmarks for which ECM Recordings has earned its blue-chip reputation over the last near half-century, exhibiting the telltale expansive sonic thumbprint of executive producer Manfred Eicher, who helps realize here a recording that captures Schiff, and the 1859 Blüthner piano on which he performs, beautifully.