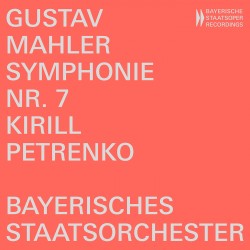 Mahler – Symphony No.7
Bayerisches Staatsorchester; Kirill Petrenko
Bayerische Stattoper BSOrec0001 (naxosdirect.com/search/bsorec0001)
The Bayerisches Staatsorchester, the resident orchestra of the renowned Bavarian State Opera, launches a new label featuring their purely orchestral performances with this 2018 live performance under their former music director Kirill Petrenko, recently appointed to succeed Simon Rattle at the Berlin Philharmonic. The reclusive and modest Petrenko has very few recordings to his credit to date; that he would choose to heighten his profile with this most neglected though utterly fascinating example of Mahler's symphonies is certainly a provocative move.
In general we have here a quite satisfying result, revealing an excellent orchestra at the top of its game. The opening bars of this five-moment symphony seemed a bit underwhelming to me at first, though it eventually became evident that Petrenko is playing the long game as the interpretation grew increasingly incandescent throughout the remainder of the movement. A certain Apollonian reticence is also evident in the flanking pair of Nachtmusik movements; the echoing horn calls that open the second movement for example are, unusually, strictly in tempo, while the expressive tempo modifications in the archly sentimental fourth movement are almost non-committal in their fleetness, though both movements are otherwise sonically luxurious and expertly balanced. He does however display a commanding hand throughout the psychedelic central Scherzo and truly comes into his own in the dense polyphony of the grandiloquent Finale which zips along jubilantly.
Though it's certainly not the finest recording of this work available (I would recommend Bernstein/NY or Abbado/Lucerne) it nevertheless shows great promise that Petrenko interprets this demanding work with such alacrity. Stay tuned!