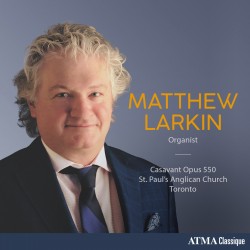 Matthew Larkin Organist – Casavant Opus 550
Matthew Larkin
ATMA ACD2 2857 (atmaclassique.com/en)
Not only is the pipe organ one of the world's oldest musical instruments, it is also one of the most complicated. Comprised of thousands of pipes ranging in size from that of a small pencil to 32 feet in length, as well as innumerable internal mechanisms and electronic controls all managed by one musician at an equally complex (and appropriately named) "console" containing up to five separate keyboards. It takes a significant amount of training and dexterity to successfully maneuver these marvels of musical engineering.
When executed properly, the organist's job is to make the technical operation of the instrument a behind-the-scenes process, secondary in nature to the music itself. The audience need not (and should not) be aware of every button that is pushed, every pipe that is activated, but rather these small adaptations should be incorporated into the whole in a subtle and organic way, a challenging objective that grows increasingly complex as the size of the instrument increases.
The Casavant organ at St. Paul's Anglican Church, Bloor Street is one of largest such instruments in Canada, with over 7,500 pipes at the organist's disposal; it is also one of the finest. Matthew Larkin Plays Casavant Opus 550 at St. Paul's Anglican Church, Toronto illustrates just how magnificent and convincing a superb instrument can be in the hands of an equally gifted performer.
A fascinating collection of international works, including those by a number of notable Canadian composers, ensures that this double-disc offering has something for every listener. Whether it is Healey Willan's Passacaglia and Fugue No. 2, Keith Jarrett's Hymn of Remembrance, or César Franck's legendary Chorale No.3, Larkin and the organ of St. Paul's provide interpretations that rise above the technical challenges (both musical and material) presented by the pipe organ and enter the realm of the sublime.
With expertly crafted material spanning continents and centuries, this recording is highly recommended to all who have an interest in the organ, its history, and its music.