History of the Russian Piano Trio Vol.1 (Alyabiev; Glinka; Rubinstein); Vol. 2 (Tchaikovsky; Pabst); Vol. 3 (Rimsky-Korsakov; Cui; Borodin); Vol. 4 (Arensky; Taneyev); Vol. 5 (Dyck; Sternberg; Youferov)
The Brahms Trio
Naxos 8.574112-6 (naxosdirect.com/search/8574112-6)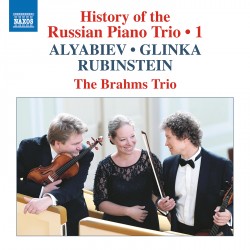 This History of the Russian Piano Trio is remarkable for several reasons. Firstly it brings together piano trios, some of which were rarely performed (if at all). Secondly it features works by composers such as Alexander Alyabiev who is all but forgotten, and Vladimir Dyck, who was murdered by the Nazis in Auschwitz; and by others – Rimsky-Korsakov, Tchaikovsky and Borodin – better known for large-scale works. Moreover, the trios by Dyck, Sternberg and Youferov are world premieres. Most significantly these five discs (the first releases in a proposed series of 15 CDs) are a magnificent attempt to resurrect the nobility of classicism that is uniquely Russian and that came into being as the country itself was in the throes of defining its own nationalism. All of these reasons make the undertaking of such a musical task uniquely challenging, but judging by the sublime performances throughout it is an uncommonly successful one.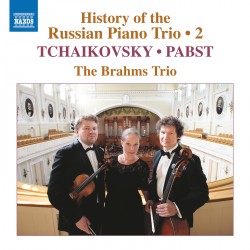 Most histories of Russian music are either written from a European perspective or with a Eurocentric bias in documenting events and achievements; something that you could hardly fault as the overarching influence – political and cultural – on Russian music came from outside its Western borders. But if the emancipation of the serfs was a political tipping point in Russian history and culture, it was the power of the so-called Big Five (Balakirev, Glinka, Cui, Borodin and Rimsky-Korsakov) that initiated the painting and sculpting of the significant landscape of a unique Russian musical character, quite apart from Western Europe; one which was later altered by the Russian Revolution, the horrors of Nazism, as well as the dénouement of Communism.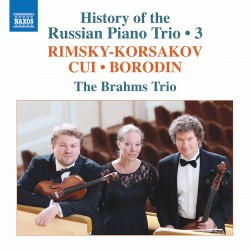 The character of Russian music may be influenced by, but is unlike anything in, Western Europe. It is music significantly "younger" than that of Europe, phenomenally Eurasian in its cultural construct, and echoes with elegant and sometimes rustic flavours that are special to Slavic and Russian literary and other (folk) cultural traditions. All of this, though ancient in many respects, came into being just over 200 or so years ago. And so, just as Russia adopted its unique script late in history, so did the music reflect these momentous changes, as if to bring to life its singular cultural topography. This is not only captured by the composers represented here by their work, but in large measure by this stellar ensemble: The Brahms Trio of Moscow.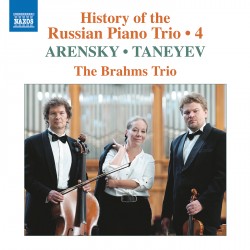 Violinist Nikolai Sachenko, cellist Kirill Rodin and pianist Natalia Rubinstein bring Alyabiev's lost work magically alive before turning to Glinka's Trio pathétique in D Minor and Anton Rubinstein's Piano Trio in G Minor with orchestral intensity, playing white-hot in ensemble and soli. Tchaikovsky's piano trio in A minor and Paul Pabst's in A major, are delivered with power and uncommon élan. Rimsky-Korsakov's Piano Trio in C Minor, Cui's À Argenteau, Op.40, No.2 and Borodin's Piano Trio in D Major are all superbly textured and delivered with delicate instrumental colouring and balance.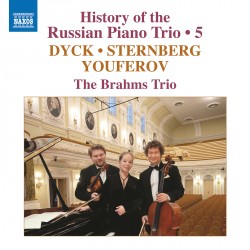 Arensky's beautiful Piano Trio No.1 in D Minor and Taneyev's masterful Trio in D Major are played with shimmering delicacy. The Brahms Trio imparts a power and tragic stature to the monumental architecture of Dyck's turbulent Piano Trio in C Minor. Sternberg's Trio No.3 in C Major is played with effortless distinction and Youferov's Piano Trio in C Minor, with debonair virtuosity and aristocratic grace. It is not only thrilling to listen to these five discs one after the other, but also seems poetic justice that such characterful music should be literally brought to life by this spectacular contemporary Russian trio.